Look Who's Talking
Story Tools
Share this story
Christopher Grismer is a junior journalism major from Chicago.
Illustration by Peter Hoey.
Tell us what you think. E-mail comments or questions to the editors at letters@northwestern.edu.
Find Us on Social Media
Ten Northwestern alumni help give voice to iconic Chicago monuments.
The iconic sculpture known popularly as "The Bean" sits silently at the heart of Chicago's Millennium Park. But if you listen closely, you can hear the sculpture declare, "I am not a bean. I am Cloud Gate."
The voice of Cloud Gate is David Schwimmer '88, one of 10 Northwestern alumni who contributed to Statue Stories Chicago, which gave voice to 30 Chicago-area statues, including Abraham Lincoln, Bob Newhart and even Dorothy and Toto.
Sing London, an arts and events production company, created Statue Stories Chicago in 2015. To hear what a statue has to say, visitors can swipe a nearby tag with their smartphone to receive a call from the statue.
Alumni contributed to the project as scriptwriters and voice actors. When Sing London contacted Lydia Gartin Diamond '92 to write the script for the statue of Chicago founder Jean Baptiste Point DuSable, she was intrigued.
"I can't imagine anyone who's an artist who hasn't looked at a statue and wondered what it would sound like," the playwright says. (The DuSable statue is in Pioneer Court on North Michigan Avenue.)
Just as she does for play scripts, Diamond thoroughly researched her subject. Learning more about DuSable was fulfilling for her, and she was pleased that Harry J. Lennix '86 would voice Chicago's first non-native resident.
"I thought Harry was perfect for DuSable because he's got that low, booming voice," she says. "Just knowing that he is a fine actor was inspiration in and of itself."
David Catlin '88 and Schwimmer took inspiration from Lewis Carroll's Alice's Adventures in Wonderland when writing the script for Cloud Gate. Carroll's stories refer to a mirror as a "looking-glass." Cloud Gate reminded Catlin of a mirror, so he and Schwimmer chose to make identity the focus of the script.
"What's the identity of this statue? It's kind of you," says Catlin, "but as you get closer to it, you realize that it's not really you, and once you're underneath it, you realize that it's hundreds of yous."
For Statue Stories Chicago, Catlin and Schwimmer — two of the co-founders of Chicago's Lookingglass Theatre Company — worked in tandem, revising the script until they got it just right. "It was a fun, quirky kind of project that doesn't come along very often," says Catlin, a lecturer in the theater department at Northwestern.
Funded by the Richard H. Driehaus Foundation and developed in collaboration with the City of Chicago and the Chicago Park District, Statue Stories Chicago will run until August 2018.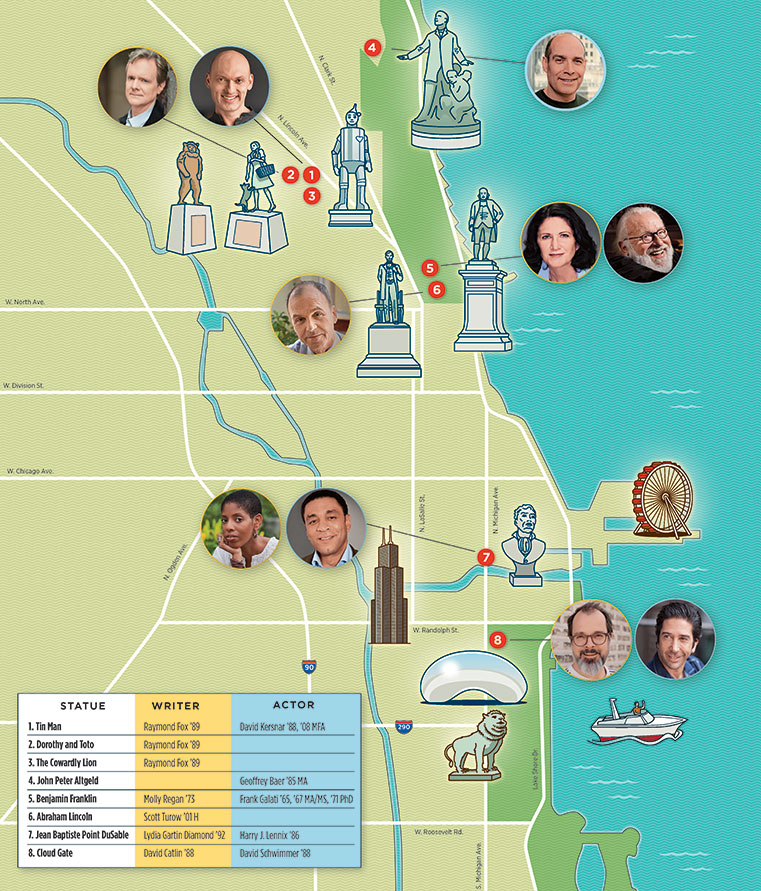 Illustration by Peter Hoey