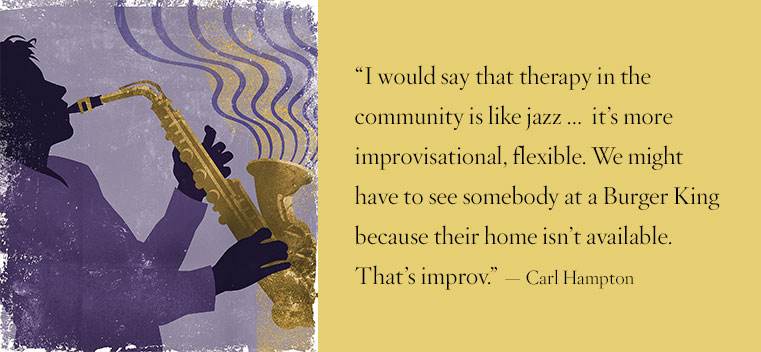 Illustration by Sam Ward
Therapy in the Community
Story Tools
Share this story
Tell us what you think of the magazine in a short online survey by Jan. 31, and you'll be entered to win an iPad.
E-mail comments or questions to the editors at letters@northwestern.edu.
Find Us on Social Media
The Family Institute's Community Program sends therapists-in­training to provide much-needed counseling for Evanston residents.
In her work with Spanish-speaking clients in Chicago's western suburbs, therapist Shay Reeves regularly draws on her experiences in the Family Institute's
Community Program
.
Reeves '17 MS participated in the program, which provides free mental health care to Evanston-area families, during her two years in Northwestern's master's program in marriage and family therapy. It helped her see the fundamental importance of her work.
"At the end of the day, these people just need somebody to sit in front of them and actually care about what's happening in their lives, to be a human and empathize," says Reeves. "You're trying to use theory and trying to figure out the best approach, but at the end of the day, it was about how can you help them get through the next week of their lives. We were working with families who, at the very bottom level, needed resources."
The Family Institute, based at Northwestern, is independent, but its Center for Applied Psychological and Family Studies is part of the Graduate School and administers the University's master's degree programs in counseling and in marriage and family therapy. The Community Program, which began in 1989, partners with Evanston's District 65 schools and other community organizations, including Connections for the Homeless and Family Focus in Evanston. The graduate student therapists-in-training, with the support of clinical supervisors, create relationships with clients through regular in-home therapy sessions, as well as classroom observation, parent training and collaborative meetings with school staff.
"We work at four schools in Evanston that we service directly, where we actually have a presence on site," says program director Carl Hampton, a clinical lecturer in psychology. "We cultivate relationships with the school social workers, and oftentimes we get referrals because students are having issues related to behavior. So we can help that student, we can help the teachers, we can help the school to manage the student's behavior. And we always try to get the family engaged in some kind of therapy."
Therapy sessions can range from working with a family about how they are organized to talking to someone about deep interpersonal issues.
"I would say that therapy in the community is like jazz," Hampton says, "and therapy in an office is more like classical music."
In the community, "it's more improvisational, flexible," he says. "We might have to see somebody at a Burger King because their home isn't available. That's improv. You never do that with your private clients."
One of the Community Program therapists' main challenges, he says, is overcoming the stigma surrounding therapy by educating skeptical families.
"Often the reputation of social workers or other mental health providers is not all that positive," Hampton says. "A lot of times there is a whole history in the communities that we serve that gets in the way of people opening themselves up to mental health providers."
Each graduate student is committed to working six hours per week in the community. Cohorts are selected each fall, and the therapists-in-training are assigned cases that they maintain for two years, until graduation, at which time the cases are reassigned. The first-year students get their cases in November and jump right in, with supervisors providing feedback to live and videotaped sessions.
"The idea of doing in-home therapy with under-resourced families was something I was interested in off the bat," says Reeves, who now works at Pillars, a nonprofit mental health and social services provider. She's also a therapist in private practice at Skylight Counseling Center, founded by David Klow '06 MS. "It was a plus that the Community Program served as a really safe space for me. Being a therapist, you do a lot of self-work, and the Community Program just promoted that on another level. We were really challenged to go beyond our limits."
"They really feel like they stretch as a therapist working in these different settings," says Dan Gill '91, '99 MS, a Community Program clinical supervisor who worked with clients at Evanston Township High School and Family Focus during his years in the program in the late 1990s.
The Community Program at one time served clients throughout the Chicago area. "We were willing to go wherever our clients needed us," says Hampton. For example, the program did outreach at Cabrini Green and worked with Stateway Gardens residents on transitioning into new housing when the Chicago public housing complex closed.
Hampton says the Community Program now allows the therapists-in-training to focus on problems in their own backyard in one of the most diverse cities in the country. "Our motto is 'If it can't work in Evanston, it can't work,' especially when you're looking at social service programs and social justice issues."