Getting Bossy
Story Tools
Share this story
Tell us what you think of the magazine in a short online survey by Jan. 31, and you'll be entered to win an iPad.
E-mail comments or questions to the editors at letters@northwestern.edu.
Find Us on Social Media
Student-created directory celebrates women-owned businesses.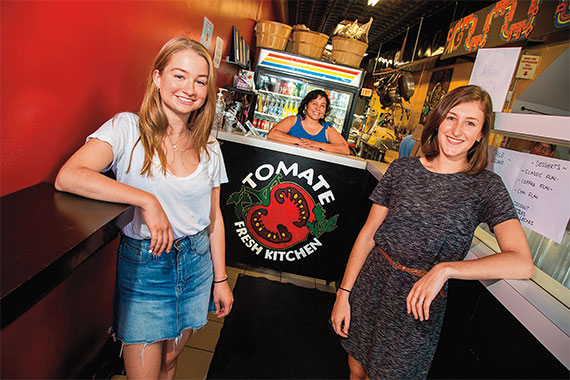 BOSSY Chicago founders Samantha Letscher, left, and Isabel Benatar, right, with Tomate Fresh Kitchen owner Tania Merlos-Ruiz. Photo by Michael Goss.
"We exist to celebrate female business owners," says senior Samantha Letscher, co-founder of BOSSY Chicago, an online directory of more than 190 women-owned small businesses in and around the city.
The directory, which won a $3,000 prize at The Garage's Demo Day in August, includes businesses from Evanston to Orland Park, with the majority located in Chicago.
Letscher, an integrated engineering studies student, and co-founder and fellow senior Isabel Benatar, a learning and organizational change major, realized they both had entrepreneurial interests in a Farley Center for Entrepreneurship and Innovation class during sophomore year. They may seem like an unlikely pair, but their complementary skills and shared passion for women's empowerment make for a strong partnership.
That's what BOSSY Chicago is all about — women working together to help women. The co-founders say the startup's name is a nod to the notion that women in leadership positions are perceived as bossy. They aim to redefine the word "bossy" by celebrating female business owners.
Benatar and Letscher knew early on that they wanted to create something that would persuade members of the Chicago community to support women-owned businesses. They found their niche after the two sat down with Sarah Hollenbeck '13 MFA, co-owner of the Chicago bookstore Women & Children First. She introduced Letscher and Benatar to the bookstore's co-founder, Linda Bubon, who told them that in the '70s, there was a print directory of women-owned businesses in Chicago.
The directory has since been lost, and no one has thought to remake it.
Letscher and Benatar had their idea, which they refined in Wildfire, The Garage's 10-week Summer Pre-Accelerator Program.
The co-founders look forward to expanding BOSSY Chicago during their senior year. "We are really focused on making an incredible resource for Chicago," says Letscher. "And while we're not actively trying to expand yet, if we find a successful model, we'd love to take it to other cities."