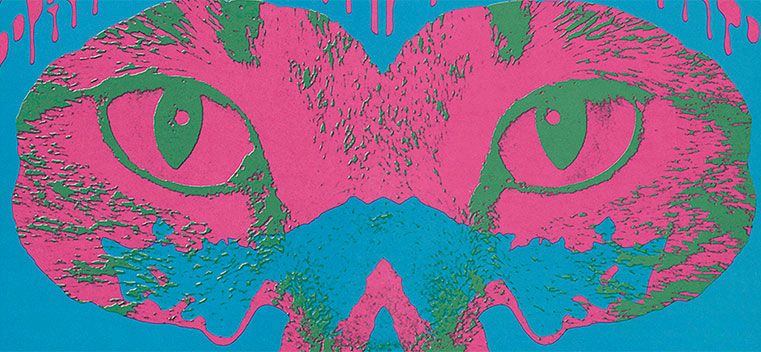 "Victor Moscoso, The Doors, The Miller Blues Band, Daily Flash, June 1–4, 1967, Avalon Ballroom, San Francisco." Charles Deering McCormick Library of Special Collections, Northwestern University Libraries. © 1967, 1984, 1994 Rhino Entertainment Company. Used with permission. All rights reserved. www.familydog.com.
Exhibitions: William Blake and the Age of Aquarius
Story Tools
Share this story
Tell us what you think of the magazine in a short online survey by Jan. 31, and you'll be entered to win an iPad.
E-mail comments or questions to the editors at letters@northwestern.edu.
Find Us on Social Media
Block exhibit explores 19th century English Romantic's influence on popular culture.
In commemoration of the half-century since San Francisco's "Summer of Love," an exhibition at the Block Museum of Art features one of the movement's most iconic muses: artist and poet William Blake.
An English Romantic born some 200 years before counterculture took root in the United States, Blake was relatively unknown in his lifetime. But from the 1940s through the '60s, the eccentric, politically charged artist became a model for America's "flower children," who embraced Blake as a model of nonconformity, self-expression and social resistance.
The exhibition, William Blake and the Age of Aquarius, runs through March 11, 2018, and is curated by critic and activist Stephen F. Eisenman, professor of art history, in consultation with Corinne Granof, curator of academic programs at the Block.
In addition to more than 50 rare engravings and illuminated pages retrieved from Blake's books, the exhibition also features more than 150 paintings, photographs, films and other works from 20th-century artists who cited Blake as an inspiration, including Jackson Pollock, Diane Arbus and Allen Ginsberg.
The Block is the first major museum to consider Blake's impact on 20th-century art and popular culture, an approach that illuminates the transhistorical connections between the two periods.
"This exhibition plays to the strengths of the Block, which has a history of placing art in a broad historic and cultural context by exhibiting together art, archives and popular and material culture," says Lisa Corrin, the museum's Ellen Philips Katz Director.
More than 50 of the pieces on display have been curated from Northwestern's Charles Deering McCormick Library of Special Collections. Among them are psychedelic rock posters and media clips from some of the era's most beloved musical artists, including Jimi Hendrix, the Doors and the Grateful Dead. The exhibit was named by Artforum magazine as one of 40 art shows to see worldwide.
"The reason I made the exhibition is to help people understand that art and activism from the past can be a powerful basis for creativity and action in the present," says Eisenman, who sees parallels between his 1960s childhood and the current political climate. "That's what the example of Blake and the counterculture shows."