Enhancing Literary Arts at Northwestern
Story Tools
Share this story
Tell us what you think of the magazine in a short online survey by Jan. 31, and you'll be entered to win an iPad.
E-mail comments or questions to the editors at letters@northwestern.edu.
Find Us on Social Media
The Litowitz Creative Writing graduate program is poised to expand opportunities for future writers and writing scholars.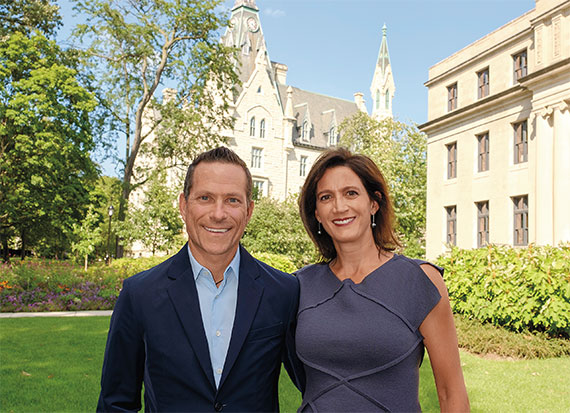 Jennifer Leischner Litowitz '91 and her husband, Alec Litowitz, have made a gift to Weinberg College to create the Litowitz Creative Writing Graduate Program.
Northwestern's Weinberg College of Arts and Sciences is hailed for its forward-thinking approaches to learning. Now a new program will provide more educational options and instruction for those pursuing graduate-level literary arts studies, thanks to the generosity of two benefactors.
Jennifer Leischner Litowitz '91 and her husband, Alec Litowitz, have made a gift of up to $10 million to Weinberg College to create a joint master of fine arts in creative writing and master of arts in English degree program. The Litowitz Creative Writing Graduate Program will be the first program of its kind at a top-tier university. The artistic training of the MFA curriculum and critical thinking generated by the work toward the MA are expected to expand students' skills and employment prospects, with a shorter path to completion than a PhD in creative writing. 
Northwestern's TriQuarterly magazine, founded in 1964, and TriQuarterly.org, launched in 2010, will provide hands-on editorial experience for the MFA-MA students, preparing them for careers as editors and managing editors of prominent literary journals. 
The students will join an interdisciplinary community that prides itself on its creative, intellectual and scholarly diversity. The program also will expand the study of arts at Northwestern, including opportunities in fields such as drama, film, music, art and dance. 
"The Litowitz Creative Writing Graduate Program will reinforce Northwestern's position as an innovator in the field of literary arts," says Adrian Randolph, dean of Weinberg College. "The distinctive and highly competitive nature of this program will engage some of the brightest graduate students in the country — those who wish to write and also to study literature and who seek a degree that represents the highest level of training — artistically, intellectually and pedagogically." 
The Department of English plans to begin enrolling students in the highly selective, three-year program in fall 2018. The MFA will emphasize writing workshops, elective courses on the craft of writing and thesis-level independent study courses, with a thesis manuscript completed by the end of the third year. The MA portion of the program is envisioned to focus on literary study, with a thesis completed by the end of the second year.
The program will be led by award-winning faculty in the English department, which ranks in the top 20 nationally. It is made up of highly regarded writers, including Natasha Trethewey, a former U.S. poet laureate and Pulitzer Prize winner, who joined the University this fall. 
The Litowitzes' gift counts toward We Will. The Campaign for Northwestern. The Litowitz Family Endowed Fund at Northwestern will provide support for the program's director and staff, graduate fellows, visiting professors, conferences, special events and other activities. 
"Now more than ever, it is important for students to develop skills in creative writing and add their voices to those being represented in the literary world," says Jennifer Leischner Litowitz, who graduated Phi Beta Kappa from Weinberg College with a bachelor of arts degree in English literature in 1991. "Through this inspired program, Alec and I hope to engage students from all different disciplines and backgrounds in this vital form of expression." 
The Litowitzes are members of NU Loyal, the giving society that recognizes consistent annual giving to the University. Their previous giving has included support for the Mary and Leigh Block Museum of Art. Jennifer Leischner Litowitz serves on the Weinberg College Board of Visitors. Alec Litowitz's mother, Bonnie Litowitz '70 MA, '75 PhD, earned graduate and doctoral degrees in linguistics from Weinberg College, and his father, Norman Litowitz '61 MD, graduated from Northwestern University Feinberg School of Medicine.