Doctoral Twins Inspire Young Scientists
Story Tools
Share this story
Tell us what you think of the magazine in a short online survey by Jan. 31, and you'll be entered to win an iPad.
E-mail comments or questions to the editors at letters@northwestern.edu.
Find Us on Social Media
Andrea and Anne d'Aquino, the first in their family to graduate from college, are on track to earn their PhDs from Northwestern.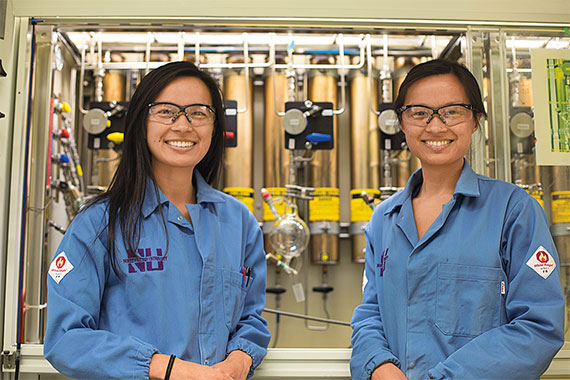 Andrea, left, and Anne d'Aquino
Anne d'Aquino thought she wanted to be a nurse, so she started taking basic biology and chemistry courses at Western Washington University in her hometown of Bellingham, Wash. "The next thing I knew, I was declaring a major in biochemistry."
D'Aquino and her twin, Andrea, the youngest of five children of immigrant parents from Hong Kong, say they didn't have much access to science when they were growing up. No one in their family had finished college, let alone entered a scientific field. Now both twins are on track to earn PhDs at Northwestern before the end of the decade.
Anne is a doctoral candidate in biological sciences; Andrea is pursuing her doctorate in organometallic chemistry in the lab of Chad Mirkin, director of the International Institute of Nanotechnology at Northwestern. Their labs in Ryan Hall and Silverman Hall are one floor apart.
The twins, — who are of Russian, Portuguese, Chinese and Japanese descent — say they want to help other minority young women pursue science.
For the second straight year, the d'Aquinos hosted HerStory, an outreach event at the Chicago's Museum of Science and Industry that encourages young girls, particularly minorities, to pursue science in academia and beyond.
"I'm hoping that maybe we can serve as role models to these girls," says Andrea, who in June was one of 400 young scientists chosen to participate in the 67th annual Lindau Nobel Laureate Meetings. 
Anne is also treasurer of Jugando con la Ciencia, or Playing with Science, a Northwestern organization that provides after-school and weekend science education in Spanish to young Latino/as
and Spanish-speaking students. "It sounds cliché, but diversity is so important for science," Anne says. "We need each other's perspectives to gain new ideas."