Smart Home Startup
Story Tools
Share this story
The Flair Team
Daniel Myers (CEO/co-founder) – Graduated in 2012 with bachelor's degrees in computer engineering and French horn performance, and a master of science in computer science
Kenny Tay (chief technology officer/co-founder) – Graduated in 2011 with a bachelor's in electrical engineering and a master of science in computer science
Edward Paget (senior vice president of software) – Graduated in 2011 with a bachelor of arts in film
Andrew Dai (director of hardware engineering) – Graduated in 2010 with a bachelor of science in electrical engineering
Tell us what you think of the magazine in a short online survey by Jan. 31, and you'll be entered to win an iPad.
E-mail comments or questions to the editors at letters@northwestern.edu.
Find Us on Social Media
Team of Northwestern alumni develop smart thermostat system that helps regulate indoor temperatures and reduce energy consumption.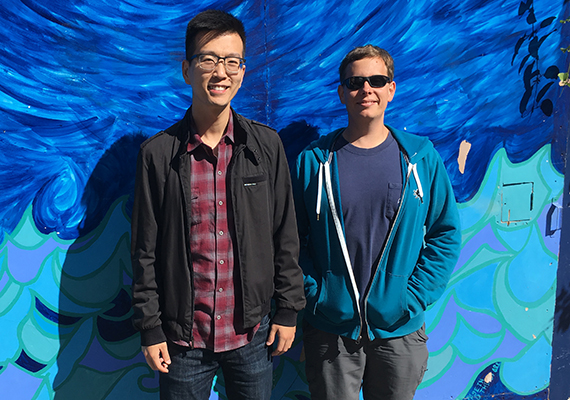 Flair team members Andrew Dai and Dan Myers
When Daniel Myers '12, '12 MS and his wife were living in Chicago, he kept fiddling with their apartment's thermostat during the 2014 polar vortex. Some rooms were too hot, others too cold.
Myers, who studied computer engineering and French horn as an undergrad, discussed the issue with his friend Kenny Tay '11, '11 MS, whom he met at the University in 2008. Around that time, a local library brought in a 3D printer for the public to use. After some brainstorming, Myers and Tay conceived of a solution to Myers' problem that cost-effectively increased comfort while decreasing energy consumption: a smart vent that could intelligently control a home's airflow room by room. Myers 3D printed a prototype, and Flair was born.
The startup, now based in San Francisco, launched last June. Flair gives homeowners room-level climate control and works with virtually all types of heating and cooling systems, including central air, ductless mini-split systems, window air conditioning units and portable units. Its Puck wireless thermostat monitors a number of room conditions, including temperature, humidity, pressure, ambient light and occupancy. The Puck not only communicates with Flair's Smart Vent to redirect airflow for central systems but can also act as a smart thermostat for ductless mini-split systems, as well as window and portable units.
For central air systems, the Smart Vent directs airflow based on Puck's observations. Flair's ability to adjust room temperature and turn off when occupants leave leads to energy savings of up to 30 percent.
The company has five employees, four of whom are Northwestern graduates. Edward Paget '12, the company's senior vice president of software, met Myers at a trivia night at Tommy Nevin's Pub in Evanston, and a friendship formed. Paget first heard about Flair when visiting Myers and Tay in San Francisco and was immediately hooked.
"I knew it would be a great opportunity to work with them," Paget says, "and the chance that our product could make an impact in saving people's energy usage seemed really attractive to me."
Andrew Dai '10, the company's director of hardware engineering, met Myers and Tay through the Northwestern Design Competition, an annual robotics event held at the Ford Motor Company Engineering Design Center.
Having grown up in Boston, Dai had experience dealing with heating issues similar to what Myers faced in Chicago. "In the winter, the tiles in my bathroom were so freezing cold that they felt like they were going to stick to my feet," he recalls. "What's crazy was, we were spending so much money just on heating alone, and the house wasn't even comfortable at all."
Myers and Tay saw Flair as an opportunity to unite the four friends once again.
"It's funny how the things that you do in school really can turn into long-term friendships and relationships," says Myers, the company's CEO. "What makes Northwestern great is that it manages to put people together and gets them to interact and work together. And now we're solving a problem and improving people's lives."