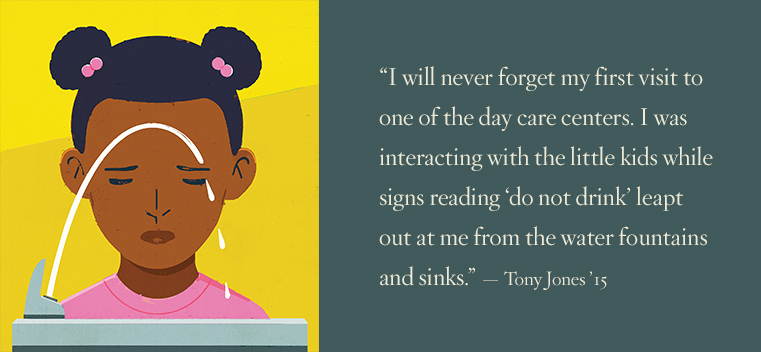 Illustration by Chris Gash.
Safe Water for Flint
Story Tools
Share this story
Tony Jones '15 was a standout wide receiver at Grand Blanc High School and later at Northwestern. After playing for the Washington Redskins, he now works as a financial adviser trainee at Merrill Lynch Wealth Management in Grand Blanc, Mich.
Tell us what you think. E-mail comments or questions to the editors at letters@northwestern.edu.
Have something to say? Northwestern magazine is looking for Northwestern alumni who would like to write for Purple Prose, the 800-word personal essay that appears in every issue. Learn more.
Find Us on Social Media
Former athlete helps provide lead-free water to kids and finds there's no place like home to get involved in community service.
I am a child of Flint, Mich. It's where my loved ones are. It's home. Unfortunately, Flint has become a dangerous place since I graduated from Grand Blanc High School six years ago. Sadly, it has become a place where kids are poisoned by the drinking water coming from the taps in their homes and schools. Approximately 99,000 residents of Flint were affected by changes in drinking water quality after the city's water source was switched from the Detroit Water and Sewage Department, sourced from Lake Huron, to a new water system, the Karegnondi Water Authority, sourced from the Flint River. Because corrosion control was not used at the Flint River treatment plant, the levels of lead in Flint tap water increased to dangerous levels between April 2014 and October 2015.
In June 2016 the Centers for Disease Control and Prevention released the results of its investigation into the potential health impact the lead contamination in the Flint water supply had on the blood lead levels of local children.
The findings indicated that when the source of the water supply was switched to the Flint River, young children who drank the water had blood lead levels that were significantly higher than when the source of water was the Detroit water system.
According to the World Health Organization, lead is a cumulative toxicant that affects multiple body systems and is particularly harmful to young children. There is no known level of lead exposure that is considered safe. But lead poisoning is entirely preventable.
When I moved back home to Flint in early 2016 and saw the effects the water was having on residents, I could not stand idly by while my hometown needed help. I wanted to do something meaningful and significant to help the city that has helped mold me into the young man that I am today.
That's when I discovered DirectlyTo, a nonprofit charitable organization and crowdfunding platform dedicated to the overall betterment of society.
In an effort to limit lead exposure, the CDC advised residents to use lead-certified water filters that are properly installed and maintained on their household taps and to use filtered water for drinking, cooking and brushing teeth. High school friend and Arizona Cardinals football player Gabe Martin and I have partnered with DirectlyTo in order to buy at least 15 commercial-grade water filter units for day care centers and other locations frequented by children in Flint.
I will never forget my first visit to one of the day care centers. I was interacting with the little kids while signs reading "do not drink" leapt out at me from the water fountains and sinks. These kids had been drinking the water for months. What lifelong effects might they face from lead poisoning?
According to the CDC, lead exposure remains a health concern for young children all over the United States, but because there are often no obvious symptoms, the exposure frequently goes unrecognized.
Studies have found that lead kills developing brain cells. The consequences are permanent. Even low levels of lead in children's blood have been shown to affect intelligence, ability to pay attention and academic achievement. Research is also increasingly linking criminal behavior, conduct disorder and delinquency to lead toxicity.
I am using my platform and my resources, through DirectlyTo, to help prevent the continued exposure of kids to unsafe water. We cannot reverse what has already been done, but we can make an effort to assist in fundraising efforts designed to help provide families in Flint with clean drinking water.
I'm glad to say that my former Northwestern and pro teammates, as well as college friends and fraternity brothers, have been happy to help. We are off to a great start, and thus far we have raised enough to provide clean water for three day care centers.
Helping the children of Flint has been one of the most rewarding experiences I have ever been a part of. I have been praised for being an exceptional football player and a great scholar my entire life, but none of that compares to being a leader in my community and doing something positive to help out the people and the city that I love so much.
I would like to ask all other Northwestern alumni to do whatever you can, no matter how big or small, to get involved in projects in your community. Just a tad bit of your time and generosity can go such a long way and can truly impact those around you.