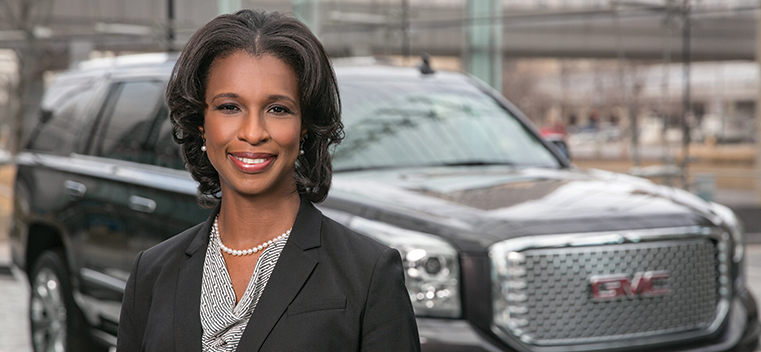 Alicia Boler Davis, executive vice president for global manufacturing and labor relations at General Motors. Photo courtesy of General Motors.
Driving GM
Story Tools
Share this story
Related Articles
Shiraz Ahmed '13 is a Detroit-based journalist who covers the auto industry for Crain's Automotive News.
Tell us what you think. E-mail comments or questions to the editors at letters@northwestern.edu.
Find Us on Social Media
From managing a Cadillac Escalade plant in Texas to heading up global manufacturing and labor relations, Alicia Boler Davis has skyrocketed into the top ranks of General Motors' leadership.
Imagine you've just bought a new truck — a Chevy Tahoe, perhaps. You drive it off the dealership lot, get on the highway to head home and realize that something isn't working as expected.
You press a little blue button with a white star on the rearview mirror, and a voice says, "Thank you for calling OnStar."
This is General Motors' OnStar, the concierge service that assists subscribers with things like navigation and roadside assistance. You chat with the OnStar representative about the problem; then, suddenly, the rep says, "There's someone who wants to talk with you." A new voice chimes in.
"Hi, I'm Alicia Boler Davis. I'm a senior vice president here at General Motors, and I just want you to know I'm listening and we're going to look into this."
"It's a bit of a 'wow' and a delight for our customers," recalls Christine Sitek, a colleague of Boler Davis who has witnessed some of these moments. "She always wants to speak and engage directly with the customer."
Interrupting customer service calls to dazzle strangers isn't what Boler Davis '91 imagined she'd be doing when she started at GM. An engineer by training, she came up through the carmaker's hulking plants and says the factory floor still feels like home.
"I think a big part is the people," she explains, "being able to interact with people, being able to bring people together for a common goal."
It's being a unifier — and a quick study — that has helped Boler Davis skyrocket into the ranks of GM's top leadership.
In 2009 GM was facing bankruptcy and had one objective: "survival," says Dave Cole, chairman emeritus of the Center for Automotive Research, an industry think tank in Ann Arbor, Mich.
Since then GM has enjoyed a resurgence that was unthinkable during the depths of the crisis. Today the company has achieved record-breaking sales and won respected awards for vehicle quality. Its leaders have also transformed themselves, says Cole. "The reign of the king-leader is gone. The leader is more like a coach."
By this, he means that the once-dictatorial executives who crashed the industry have been replaced with consensus-building, team-focused leaders.
And according to those she's led, Boler Davis is a terrific coach.
Jim Moloney, a colleague from customer experience, would come into Boler Davis' office "feeling very frustrated — [with] the enormity of driving big change at a company like GM." He'd sit down with her, and "in the course of a conversation, almost without effort, I'd walk out afterward feeling very good about myself. My batteries had been recharged."
Boler Davis' accomplishments back up her reputation. She was the carmaker's first African American woman plant manager, led the engineering and build of a critical vehicle in its lineup and, as the vice president of customer experience and quality, helped transform the fundamental character of a company striving for change.
Today Boler Davis is GM's executive vice president of global manufacturing and labor relations. She leads about 180,000 employees at 171 facilities that pump out tens of thousands of cars, trucks and SUVs every day. As Sitek says, it's the job Boler Davis "was meant to have."
"Alicia's strong manufacturing background, combined with her recent roles leading quality and the customer experience, will allow us to create an even stronger customer-focused link among our people and processes in GM's manufacturing operations worldwide," says Mary Barra, GM chairman and CEO.
The plants are the final stop for GM before vehicles are shipped off to car dealerships and customers around the world. It is imperative for Boler Davis that manufacturing employees are fully engaged in delivering vehicles of the highest quality. In her role as chief of labor relations, she is looking to all unions representing hourly workers around the world as partners in driving employee engagement — no mean feat with 45 different unions representing hourly workers in 31 countries.

Alicia Boler Davis tours a plant in Rüsselsheim, Germany. Courtesy of General Motors.
She's the woman for the job. Friends and colleagues say that her empathy allows her to connect with workers on a personal level.
"Alicia's got an incredible ability to be on the floor and talk with people who are building our vehicles, know what our issues are and genuinely relate well to the employees," says Moloney. "She's at ease on the floor, and she's at ease in the corporate boardroom."
On the factory floor, there is a constant drive to hit the day's quotas. Boler Davis loves this life because, at the end of the day, "you can see whether or not you're winning."
Competitive by nature, she speaks the language of sportscasters, explains Moloney. "You don't actually win the game unless you score some goals," he says. "Lots of times in big organizations, you see individuals go up and down the field, but they never score any points." Boler Davis, he says, is somebody who scores points.
Boler Davis was born in Detroit and raised in Romulus, a working-class suburb away from the bustle of the city. Her parents divorced early, leaving her and her three siblings to be reared by a working mom.
Even early in life she had a fascination with how things work. In middle school, when appliances broke — the iron, the coffee maker — and the family couldn't afford to replace them, she would pull them apart and figure out what was wrong. "I was the one who would fix things," she says.
In high school she participated in a summer engineering program run by General Motors Institute, now known as Kettering University. She took classes in calculus and chemistry and toured labs and offices. It may have only been a few weeks, but, Boler Davis says, "I like to tell people that General Motors really got me started in my career."
It also gave her a first glimpse of the massive factories that are emblematic of this corner of the country. She walked down the assembly lines she would one day be in charge of, in awe of the sheer size and breadth of the carmaker.
She thought, "They make things here. I like that."
On the Right Track at Northwestern
At Northwestern, Boler Davis fell in love with engineering.
"Northwestern really gave me the confidence that I had strong engineering skills," she explains.
But when she applied to the University, her confidence wasn't guaranteed. She didn't know anyone from her high school who had attended Northwestern, and she hadn't even visited the campus before applying. The school was an unknown.
After getting accepted, she enrolled in Northwestern's Minority Engineering Opportunity Program (now called EXCEL), a McCormick School of Engineering summer program that helps incoming first-year students make the transition to college.
Over the course of five weeks, groups of 15 to 20 take classes together in math, chemistry and leadership; live in dorms; and learn key skills such as asking for help, working in groups to succeed and, for students who come from insular communities, adapting to a new social setting.
Boler Davis thrived in the program and later as a McCormick chemical engineering student. Through MEOP she was introduced to the Northwestern chapter of the National Society of Black Engineers, a close-knit, preprofessional organization she eventually rose up to lead as a senior.
"It was almost akin to a sorority," says Rhonda Smith Ferguson '91, a fellow NSBE member who has known Boler Davis since they were first-year students. "It was about helping each other."
When they weren't planning events or networking, Boler Davis and Ferguson would hop on the "L" and explore Chicago. "Basically window-shop," jokes Ferguson.
Of course, they studied as well. Her time in school, Boler Davis says, instilled in her a belief that she "can learn anything."
"Northwestern helped foster in me the idea of doing things that you may not think are possible," she says. "I remember when I chose to study chemical engineering, I chose that because it was challenging."
This belief is what led her, shortly after graduating from Northwestern, to make the switch from chemical engineering to mechanical engineering and then take a job with an almost legendary company in her hometown.
Tooling Up
When Bill Boggs, a veteran plant manager, joined GM after years in the auto industry, he had one request. "I want your hardest plant. That way I can show you what I can do."
Boggs was placed at the Detroit-Hamtramck facility, back then a rough-and-tumble factory plagued by quality and leadership issues. There he met Boler Davis, who was 30 years old and coordinating vehicle launches at the time.
He often sought out young talent to mentor, and Boler Davis proved herself more than capable.
"Back when I grew up, there weren't any women at all in manufacturing," Boggs says. "So when I found someone who was passionate about it and wanted to stay in, I'd always try to help her."
Under his guidance, Boler Davis trained in each major sector of the manufacturing plant. "We loaded up her toolbox, if you will — put her in all the positions," Boggs says. "She's like a sponge. She just ate it up." (Boggs mentions that by the time he retired, he was working for her.)
Much sooner than she expected, Boler Davis was named a plant manager and dispatched to Arlington, Texas.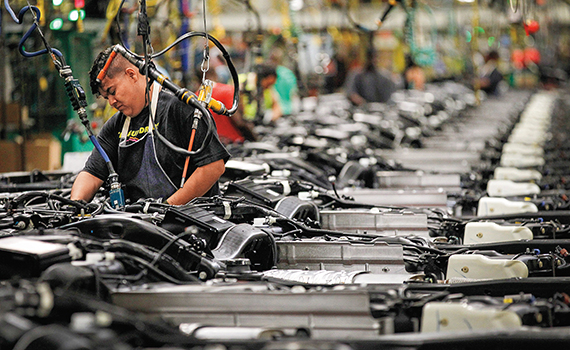 The assembly line at the General Motors plant in Arlington, Texas, where Alicia Boler Davis was plant manager from 2007 to 2009. She was the first African American woman to become a GM plant manager. Mike Stone for General Motors.
The Arlington facility is one of GM's most important factories. The Cadillac Escalade, arguably very important to GM's luxury brand, is built in Arlington, among other vehicles. For a first crack at running a plant, this was not one to screw up.
The challenges went beyond the operation. Boler Davis was the first African American woman to lead a GM plant. She was only 38 years old, leading a plant staffed by veteran workers who were suspicious of outsiders.
"I had people who were not happy to see me there," she recalls. "People made comments about my age, my gender, my race — and not just little remarks."
She sought advice from a retired executive, another woman, who told her: "Alicia, don't worry about all that. Be yourself. Kill them with kindness."
Boler Davis replied, incredulously, "Kill them with kindness? I don't know if that's going to work."
But that's what she did. Every day Boler Davis would march into work and do the best job she could. "Once people see that you're confident, that you're committed, that you're going to be in the game," she says, "that other stuff goes away very quickly."
Within six months, she felt at home.
A Champion for Customers
In 2010, after returning to Michigan, Boler Davis was quickly assigned to apply her skills to engineering, building and launching the Chevrolet Sonic, a crucial new vehicle in GM's post-bankruptcy lineup. At the end of that project, she had impressed the leadership so much that she was plucked out of the plants and asked to lead a new but critical department: customer experience.
When Boler Davis starts something new, she gets an "uncomfortable feeling."
"It's almost a paranoia, when you don't want to fail," she explains. "It pushes you to work harder, to really perform at a high level."
This change was particularly abrupt. The customer experience function — a term broad enough to encompass all interactions with customers, from social media to the service bay — was formed by then-GM CEO Dan Akerson. As a newly minted vice president, Boler Davis transitioned from the blue-collar assembly lines of the factories to the white-collar phone lines of call centers.
There wasn't any time to be nervous. In her first few days, Moloney recalls, Boler Davis received a phone call from CEO Akerson, who had heard from an irate customer. She responded that she looked forward to handling those calls in the future, and Moloney remembers Akerson's reply: "You're in the job right now. I want you to call this customer back this afternoon."
Luckily, Boler Davis learns quickly.
"When she came into the contact center space, she didn't know anything about how a center operated," Moloney says. "She jumped right in, listened to calls, did meetings with advisers, took the time to understand what their issues were."
GM is a vast, sprawling company. Boler Davis was tasked with being a champion for customers, breaking down bureaucratic barriers so that their voices were heard throughout the company.
The job had both practical and high-minded dimensions. The former required Boler Davis to modernize GM's customer service infrastructure. She updated the call centers and the websites, turned the focus global rather than just domestic and wrangled with other GM departments to centralize the company's social media efforts. Eventually, global product quality was added to her purview so that customer comments and complaints could feed directly to designers and engineers.
In late 2014 Boler Davis was named senior vice president of global connected customer experience. She led the company's connected customer activities, including infotainment, OnStar and GM's Urban Active personal mobility initiatives.
But those are just the nuts and bolts of the job. Ultimately, Boler Davis viewed her role as fundamentally transforming how GM and its employees see themselves. She sought to make it so that every decision every employee made was determined by how the end result would affect the customer.
"It was simply understanding the impact of your decisions on the customer, bringing the customer's voice into your decision-making process," says Boler Davis. "Our employees wanted to have this reason for being that was beyond we're here to design and engineer and build cars."
She told employees, "We're here to meet the needs of our customers; we're here to exceed their expectations; we're here to find creative solutions to their problems."
"That was not an easy ask of our company," says Moloney. "Back to our roots in manufacturing, we've always been resource rich, but that doesn't make you customer focused."
He says Boler Davis took the fight to the very highest levels of GM. "If I look at our [company] purpose and value statements, I can see Alicia's fingerprints all over it."
It was a "total surprise" when GM CEO Barra asked Boler Davis to return to manufacturing last June.
"I had spent 18 years in manufacturing," she explains. "I had a great career there, but I was doing something different in the company in customer experience and connectivity, and I was OK with that."
Halfway through Barra's conversation with her, however, Boler Davis interrupted and said, "I'll do it."
As head of global manufacturing and labor relations, Boler Davis is in charge of making sure that the almost 10 million cars, trucks and SUVs that GM manufactures around the world annually are built to schedule and top quality when they come off the assembly line.
"Being back in manufacturing," she says, "it feels like home to me."
Leading by Example
Her family is where she finds peace. "It's where I can go back and be very grounded," says Boler Davis, who is married and has a 24-year-old stepdaughter and two sons, ages 14 and 11. She coached one son's fifth-grade robotics team, and they went on to compete internationally. It pays to have an engineer for a mom.
She volunteers and serves on the boards of several organizations aimed at assisting inner-city and underprivileged youth. Her message is simple, yet speaks to her journey: You can do it, because I have done it.
"I also come from a home where I didn't have two parents, where my mom worked all the time, where we didn't have a lot," she often tells kids. "In spite of that, you can still dream. In spite of that, you can still be successful."
Boler Davis shares a story of a teenage girl she met while volunteering at a high school in Detroit. When they met, one detail about the girl stood out. "Those tattoos, my gosh!" Boler Davis thought. "What the heck?"
The heavily tattooed girl and she were side by side, cleaning graffiti off of lockers. Boler Davis asked the girl, a high school junior, if she was looking forward to her senior year. She responded, "Yeah, I am, but I gotta figure out where I'm going to live."
She then told Boler Davis of her struggles: how she had lived with four different family members and friends in one year; how she hadn't seen her mother in months; how she was thinking about college but really wanted to join the U.S. Air Force.
"I was encouraging her," Boler Davis says, "that she could do it."
And then the girl told her about how the tattoos — permanent reminders of decisions she had made at a younger age — violated U.S. Air Force protocols for admission.
They kept talking, and all Boler Davis kept hearing was can't. "She was giving me more reasons why she could not, even though she had this strong passion."
Then, true to her nature, Boler Davis became a problem solver. "We talked about what her options were. What was the most visible tattoo? What can we do about it?"
Eventually they finished cleaning, hugged and said goodbye. Years later, Boler Davis says, she learned that the girl had not joined the U.S. Air Force but did make it into a four-year university.
This story may sound a little too perfect, but take away the context of the conversation and Boler Davis could have behaved the same way on a plant floor, in a call center or in GM's boardroom. Those she works with say Boler Davis has an incredible ability to instruct, empathize and inspire all at once.
"Great leaders — you feel like you're working with them, not for them," says Moloney. He recalls a meeting with her early on in the process of updating the contact centers. Boler Davis wanted to make sure they weren't settling for "good enough." "She said, 'Jim, I'm going to push you to the ledge. I just don't want you to jump off.' "
It might be that Boler Davis expects of others what she demands of herself: fearlessness. Near the beginning of her time at GM, before she entered the plants and met Bill Boggs, Boler Davis had a choice. She could move to manufacturing and learn how a car is built, as she wanted, or move to vehicle design and engineering as her supervisor recommended.
After all, plants are rough places.
"I was just persistent," recalls Boler Davis. "And I said, 'Hey, do you mind if I talk to your manager about it?' " She debated and pushed her supervisor, and eventually he came around with an even better offer: Go to a plant, but then, after a year and a half or two years, have an option to move elsewhere.
From there, Boler Davis was set.
"I had nothing to lose."