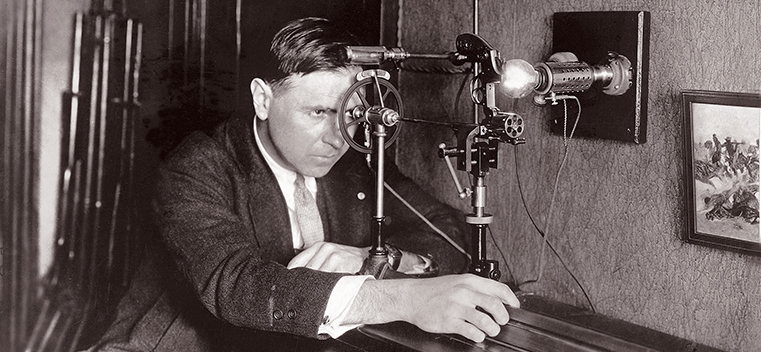 Calvin Goddard examines the inside of a revolver cylinder at his Bureau of Forensic Ballistics in New York City. He later launched the Scientific Crime Detection Laboratory at the Northwestern School of Law, a comprehensive crime lab that provided expertise in ballistics, as well as hair and fiber analysis, serology, toxicology and lie detection. Photo courtesy of Smithsonian Institution Archives.
Then: LAW SCHOOL LAB ADVANCED STUDY OF BALLISTICS
Story Tools
Share this story
Calvin Goodard helped bring down Chicago gangsters involved in St. Valentine's Day Massacre.
Calvin Hooker Goddard, the "father of forensic ballistics," advanced the system of matching bullets and casings to guns at a first-of-its-kind Northwestern-based crime lab.
After serving in the U.S. Army Medical Corps during World War I, Goddard established the Bureau of Forensic Ballistics, a New York City–based laboratory to assist law enforcement investigations. He gained national attention for his testimony in the 1927 court case of anarchists Nicola Sacco and Bartolomeo Vanzetti, who were convicted of murder and executed.
In February 1929 the Chicago gang war between Al Capone and George "Bugs" Moran culminated in the St. Valentine's Day Massacre, the execution-style murder of seven gangsters. Cook County coroner Herman Bundesen and two prominent Chicago businessmen who were desperate to revamp the city's image offered Goddard a larger laboratory to investigate the massacre. Because the police were potential suspects in the case, Bundesen suggested establishing the lab independently of the Chicago Police Department, perhaps at the nearby Northwestern University School of Law. With support from the law school dean, John Henry Wigmore, the Scientific Crime Detection Laboratory, the country's first independent criminological laboratory, was born.
When police discovered a cache of weapons and ammunition at the St. Joseph, Mich., home of a Capone gangster, Goddard got the call. He test-fired several weapons, examining the markings and etchings on the bullets and casings, and then compared them to the bullets and casings from the massacre. They matched perfectly, confirming Capone's henchman's involvement.
The media attention surrounding that discovery catapulted Goddard to national fame, bringing new funding to his crime lab and legitimacy to the science of forensic ballistics. He served as the lab's director and a professor of police science until 1934.