Student Startup Developing Flying Car
Story Tools
Share this story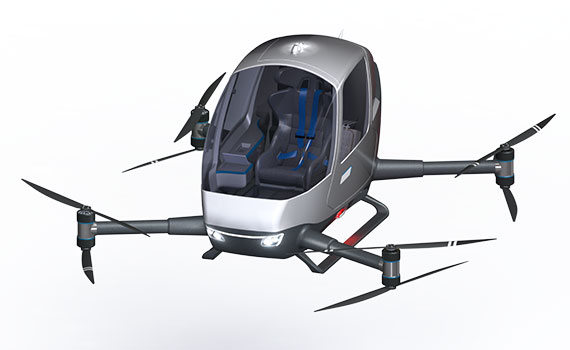 The conceptual design for the Kairos Air self-piloting electric air vehicle. Courtesy of Kairos Air.
A group of Northwestern students is working on an ambitious class project, one that has them courting funds from NASA and meeting with the Federal Aviation Administration.
Their project? A flying car.
The six-person Kairos Air team, based at Northwestern's startup incubator, the Garage, is aiming for a 2024 release for its self-piloting, electric air vehicles, which could one day carry a single passenger at  60 miles per hour for 20 minutes, ascending up to 700 feet. Team members — grad students from the Kellogg School of Management, McCormick School of Engineering and the Northwestern Pritzker School of Law — estimate each vehicle will cost $200,000 to manufacture, but research, development and testing will cost more than $200 million.
And while they know the idea is ambitious, team members see this as the perfect moment to go for their moonshot. "With the Kellogg community behind us, going after this will never be easier, and the drone technology has never been better," says co-founder Drew Dilts, a second year Kellogg student. "The timing is just perfect."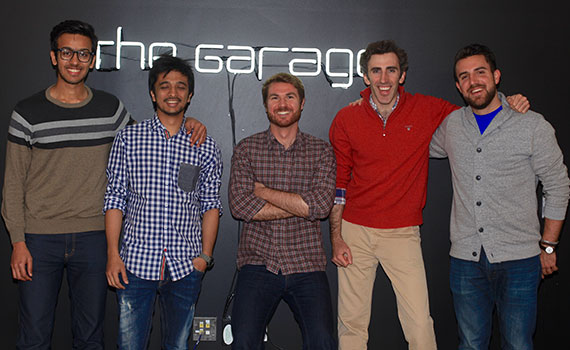 The Kairos Air team, from left, McCormick School of Engineering graduate students Aditya Ramkumar and Zinekhar Ahmed, Kellogg School of Management student James Griffin, Northwestern Pritzker School of Law student Andrew Dilts and Kellogg student Eduardo Uriarte Ruiz, at The Garage.