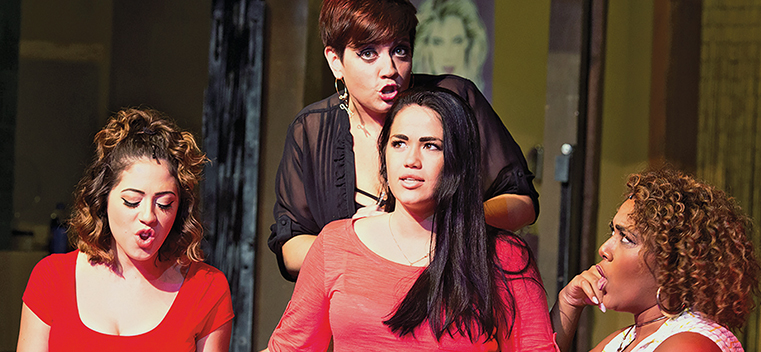 From left, Michelle Lauto, Missy Aguilar, Lucia Godinez and Leah Davis in In the Heights. Photo by Gretchen Kelley.
Role Model
Story Tools
Share this story
Lucia Godinez calls for greater Latino representation in theater at Northwestern and beyond.
For four nights a week during the fall, junior Lucia Godinez finished up her classes and headed to Porchlight Music Theatre in Chicago to perform in In the Heights.
Godinez, the youngest member of a cast that included Yando Lopez '13, '13 CERT and Frankie Leo Bennett '15, '15 CERT, was the only actor who was still in college. Landing a leading role at an award-winning theater like Porchlight was a huge coup.
But that's not what made this show important to Godinez, a theater and Latino studies double major and, at one time, she says, the only Latina student in the Music Theatre Certificate program. The daughter of Northwestern theater professor Henry Godinez, a Cuban refugee, she has outspokenly challenged stereotyping of Latino actors at large and underrepresentation at Northwestern in particular. 
In the Heights, a show with music and lyrics written by Hamilton creator Lin-Manuel Miranda, is a Tony Award–winning play about the Dominican-American New York City neighborhood Washington Heights. It puts explorations of Latino identity at the forefront. Rehearsals aren't just running through lines and choreographing dances, Godinez says. They're discussions about identity and what the show means to each cast member, many of whom are Latino.
"This show has reconnected me to my Cuban identity," she says. "I've never been in a show that features Latino identity like this. I love musicals that are just flashy and fun, but being able to combine that with what I learn in Latino studies classes makes it so much more meaningful."
Godinez, who plays Nina Rosario in the Porchlight production, first saw In the Heights as a senior in high school. Her mother, who is also an actor, told her it would become her favorite show. She was right.
"When I heard the lyric 'alza la bandera cubana,' or 'raise the Cuban flag,' and saw people waving it onstage … I can't even articulate what that meant to me," Godinez says. 
On campus, Godinez has previously performed in shows at the Wirtz Center for the Performing Arts, including Anna in the Tropics, "a piece of theater about Latinos, for Latinos, by Latinos, featuring Latinos," Godinez wrote in North by Northwestern last spring. "Understand that representation is important. … We must commit to fighting back against cultural erasure, and that fight begins with representation and art." (Read more "Not Enough: Latino Representation in NU's Theatre Community."