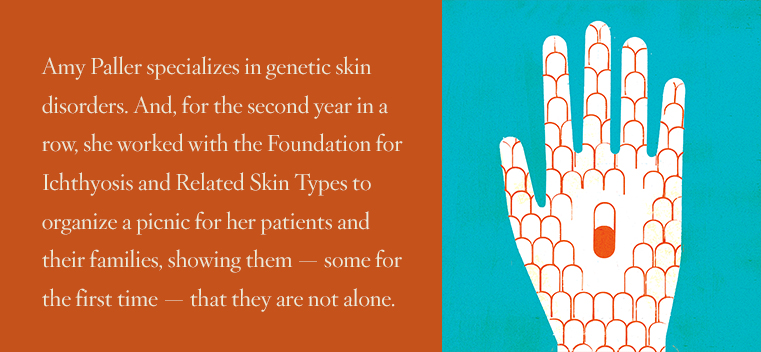 Illustration by Chris Gash.
Healing and Hope
Story Tools
Share this story
Written by senior Josh Rosenblat, with reporting by junior Anika Henanger and senior editor Sean Hargadon.
Tell us what you think. E-mail comments or questions to the editors at letters@northwestern.edu.
Find Us on Social Media
Northwestern dermatologist Amy Paller is creating community — and pursuing therapeutic treatments — for people with the skin disorder ichthyosis.
Amy Paller '83 GME looked out into the crowd of more than 70 adults, teens and children she had brought together, some from as far away as North Carolina. Among them were parents who can't bring their children to the grocery store without being shunned and teens who have struggled to make friends because of the way they look.
Many were her patients, bonded by a rare group of genetic skin diseases with a tricky name — ichthyosis — often painful disorders in which red skin is topped with scales.
Paller, the Walter J. Hamlin Professor of Dermatology at the Feinberg School of Medicine and director of Northwestern's Skin Disease Research Center, specializes in genetic skin disorders. And, for the second year in a row, she worked with the Foundation for Ichthyosis and Related Skin Types to organize a picnic for her patients and their families, showing them — some for the first time — that they are not alone.
"There's nothing like getting people together, face-to-face, to see that there are others who have the same issues," says Paller, who is also an attending physician at Lurie Children's Hospital.
In most people, skin barriers help to retain moisture while keeping out irritants and allergens. Individuals with ichthyosis have faulty skin barriers, causing dry, scaly skin and often unbearable itchiness.
"It's a difficult problem to hide," says Paller, who says the social and psychological stigmas have a huge impact on self-esteem and quality of life. Beyond the visible signs of the disorder, people with ichthyosis also have trouble sweating, making it hard to participate in sports or play with friends. The itchiness and pain can cause behavior changes.
Dermatologists still largely focus on alleviating the skin scaling. People who have ichthyosis "are putting on Vaseline-like moisturizers. They're taking long baths and trying to rub or peel off the scales. They're using drugs that are similar to high-dose vitamin A and have a bunch of potential side effects," Paller says. Dermatologists "give them things to try to get the scales off so that they look better, but that may be, in effect, further worsening their barrier issues."
Involved in the ichthyosis community for more than three decades, Paller has emerged as one of the foremost experts on the skin disorder, seeing pediatric and adult patients from Chicago and across the United States and beyond, including from Africa, Australia and Europe.
Over the past 25 years, Paller says, researchers have uncovered the genetic basis for nearly every type of ichthyosis. She and colleague Emma Guttman-Yassky, professor of dermatology and immunology at the Icahn School of Medicine at Mount Sinai in New York City, have brand-new research that outlines an immune cell dysfunction linked to the disease. A specific arm of the T-cell immune system is overactive, and the higher its activity, the worse the disease severity. (See the paper in the Journal of Allergy and Clinical Immunology.)
Paller is about to launch a clinical trial to test a new cutting-edge drug to treat ichthyosis, with the goal of targeting and calming down this cell. The drug has already been effective in another inflammatory and scaly skin disease, psoriasis, and Paller hopes that the drug could be just as helpful in ichthyosis. She has applied to the National Institutes of Health for funding and plans to begin a 36-patient clinical trial in the near future.
Paller's efforts to treat ichthyosis — and lessen the stigma associated with the disorder — give her patients a new sense of hope.
"This is the first time my kids have interacted with anyone with ichthyosis," said a father who drove from North Carolina for the picnic with his son and daughter, both of whom suffer from ichthyosis. "They see themselves as different or weird. They've always felt the sense that they're rare. Now seeing themselves in the presence of a lot of others [with the same condition] is eye opening."