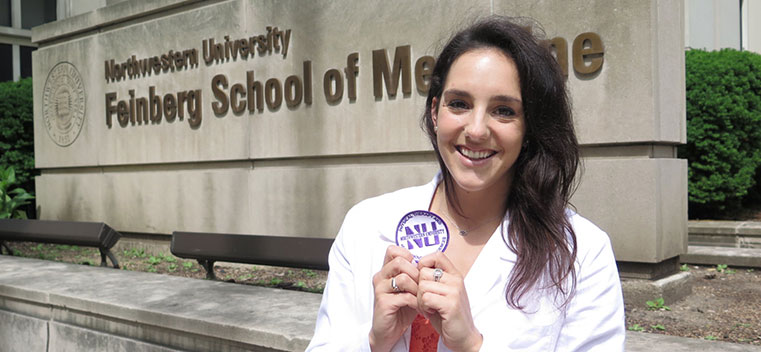 Diving Into the Next Challenge
Story Tools
Share this story
Former Olympic diver Christina Loukas pursues physical therapy degree.
Christina Loukas, a student in the Feinberg School of Medicine's Physical Therapy and Human Movement Sciences program, placed in the top nine in the 3-meter springboard diving competition at both the Beijing (2008) and London (2012) Summer Games. And she's convinced that "preparing to be a physical therapist is harder than preparing for the Olympics. I didn't have homework for diving."
Loukas, an eight-time NCAA All American at Indiana University and three-time Big Ten Diver of the Year, endured regular injuries and physical stress during her competitive diving career — and relied on many physical therapists to help her recover. When she realized physical therapy might be her way to have a career in the world of competitive athletics, she immediately knew where she wanted to apply. Growing up in the Chicago suburbs in a Wildcat family — her uncle, Angelo Loukas '69 played football for Northwestern — Loukas knew that the University had a top physical therapy program right in her backyard.
Loukas almost considered competing in the Summer Olympics in Rio de Janeiro but found out that the training required would have forced her to delay her graduation from Northwestern by a year. She chose to stay in school, though she still watched events like diving and gymnastics from her sofa in Chicago, physical therapy textbook in hand.