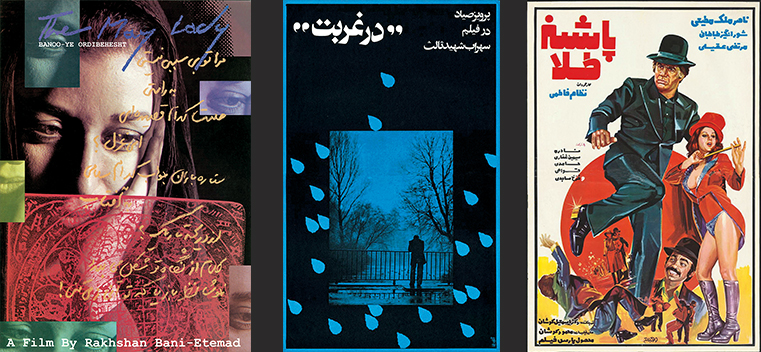 From left, The May Lady [Banoo-ye Ordibehesht], 1999; Far From Home [Dar Qorbat], 1975; and The Golden Heel [Pashneh Tala], 1975. Images Courtesy of Hamid Naficy Iranian Movie Posters Collection, Northwestern University Archives.
Collections: Poster Collection Celebrates 50 Years of Iranian Film
Story Tools
Share this story
In 1973
Hamid Naficy
returned to his home country, Iran, to help start a new multimedia university, the Free University of Iran. While planning a course on documentary film, he discovered that there were no textbooks on the subject in Persian. He set out to develop his own textbook and in the process launched a 40-year career as an author, scholar and professor in the field of Middle Eastern cinema.
Over the course of his research, which had him in contact with dozens of filmmakers, he began to amass an assortment of Iranian movie posters. His efforts grew into a collection of nearly 250 unique posters that feature a variety of styles and genres of film.
Naficy, the Sheikh Hamad Bin Khalifa Al-Thani Professor in the School of Communication, donated his collection to the Northwestern University Archives. Part of this rare collection is now on display at the Mary and Leigh Block Museum of Art through early December in the exhibition "Salaam Cinema! 50 Years of Iranian Movie Posters."
Curated by Naficy and the Block Museum's Michelle Puetz, the exhibit includes posters for pre-revolutionary melodramas and comedies that reinforce traditional values, as well as dystopian new wave films that underscore the mounting fear and anger leading up to the Islamic revolution. The exhibition also includes posters for nationalist films expressing the trauma of the Iran-Iraq War; films directed by and starring women that critically explore their representation on screen; and more contemporary films that examine post-revolutionary Iranian society.
Naficy wants viewers of the collection to see a different side of Iran. "People will learn about poster design, the variety of Iranian films and hopefully something new about Iranian society and culture," he says, "because what most people in the U.S. know about Iran has been colored so much by the religiosity of the current regime and by the negative Western representation of it."