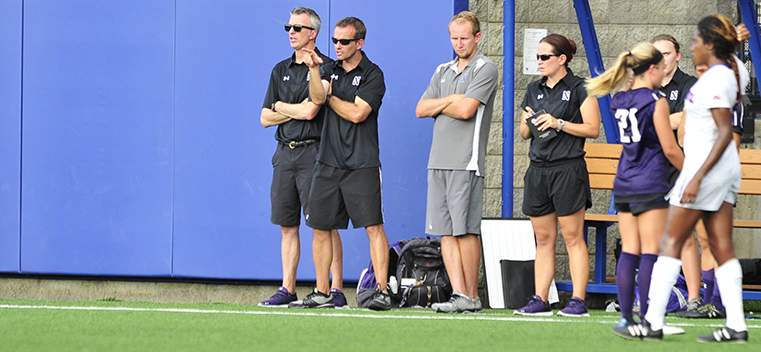 Women's soccer associate head coach David Nikolic, left, and head coach Michael Moynihan. Photo by S.J. CARRERA INC. 2014
Coaching Chemistry Leads to On-Field Success
Story Tools
Share this story
Women's soccer coaches Michael Moynihan and David Nikolic grew up just 2 miles apart, but it was the "beautiful game" that brought them together more than 40 years ago, when they first took to the pitch together in a Milwaukee-area youth league.
After college, when Moynihan was asked by his sister to help coach at the University of Wisconsin–Milwaukee, he recommended Nikolic to take over his previous high school coaching job. Soon after, both were volunteering at the university, which despite being a Division I program was not funded as one.
In 1997 Moynihan's sister left for another coaching job, and the pair took over full time, leading the team to an NCAA tournament berth in their first year. After 19 years with the program, Moynihan was offered the head coaching position at Northwestern in 2011. His first move was to bring Nikolic to Evanston as an assistant coach.
Many years ago the two coaches took a mandated "personality test" that produced strikingly different results. "I remember thinking, 'How is this possible? We work so well together,' " says Nikolic.
Their confusion turned quickly to understanding. Nikolic, a social, patient communicator, is the perfect second in command to Moynihan, the more reserved, but driven, head coach. They share a similar vision of how soccer should be played but complement each other in ways that only differences could reveal. Judging from the team's drastic improvement since 2011 — including a 14-1-3 record, a top 25 ranking and a share of the Big Ten title this season — they have found a formula for success.