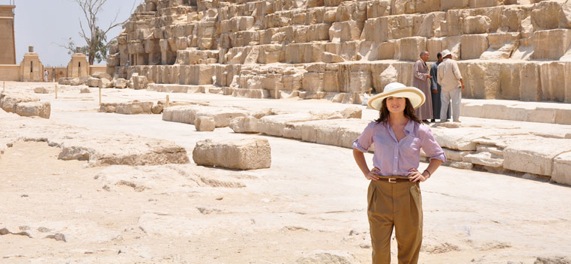 Northwestern alumna Lauren Bohn, a Fulbright in Cairo, is reporting on the protests in Egypt.
Eyewitness in Egypt
Story Tools
Share this story
Medill alumna Lauren Bohn reports from the front lines of the protests in Egypt.
Lauren Bohn is witnessing history. For more than a week she has been covering the protests calling for the resignation of Egyptian President Hosni Mubarak.
Bohn (GJ10) is in Cairo on a Fulbright, working on a master's in Middle East studies at the American University in Cairo and freelance reporting. She lives in Zamalek, an upscale community on an island in the Nile River that lies between downtown Cairo and Giza, not far from Tahrir Square, epicenter of the protests.
Bohn, who is from Philadelphia, graduated from the Medill School of Journalism's graduate program, with a concentration in videography and broadcast, last June. She wrote for Time.com as an intern at Time magazine and interned at CNN under Soledad O'Brien and Christiane Amanpour. As a graduate student at Medill, Bohn received Chicago's Association for Women Journalists' 2010 award for outstanding young female journalist. She plans to become an international correspondent.
Bohn left for Egypt last July to study Arabic in a five-month language study. Her Fulbright studies began in January. Before she departed for Cairo, Bohn told the Northwestern NewsCenter, "It's my hope that my Fulbright experience will enhance my capacity to talk to the public about the Middle East — that it will serve as a springboard for journalism that broadens and deepens the public dialogue."
When we spoke with Bohn on Feb. 2, she said she felt relatively safe and discussed why she focused her reporting on the people who are engaged in and affected by the protests.
You can read her reports on Salon.com and Now Lebanon or follow Bohn on Twitter.
NORTHWESTERN: WHAT HAS YOUR SCHEDULE BEEN LIKE IN THE PAST WEEK?
BOHN: Sarah, one of my friends from NYU [where Bohn completed her undergraduate studies], she's a journalist in Lebanon, and last Thursday, when she heard about everything in the news, she said, "I'm going to go to Egypt." So we've been running kind almost a two-woman news bureau, doing our own thing.
We're getting as much footage as we can, capturing everything. Sarah also has an obligation to file for Now Lebanon, so she's been writing updates. I've been helping her with some details and interviews. 
NORTHWESTERN: WHAT HAS BEEN THE MOST CHALLENGING ASPECT OF YOUR REPORTING FROM CAIRO?
BOHN: It's really hard not having Internet access. It's difficult to report in times like these because obviously the first priority is to report on the what, the where and the how. That's probably not one of our strengths, because we don't have this huge news bureau with decades of connections and experiences with governments and people in charge.
NORTHWESTERN: WHAT'S THE STORY THAT'S NOT BEING TOLD?
BOHN: We've been profiling Egyptian people on the ground in Tahrir Square, focusing on the "who" of this historic moment. Our hope is that when the Internet is finally stable, we can tell these Egyptians' stories. 
I'm interested in the people who are in the middle of this, who basically started this uprising, who are carrying it through. 
What's most fascinating to me is that there are so many faces to these demonstrations. I'm not just talking about poor people. While there are tons of poor people taking to the streets, protesting because they cannot put bread on table, because the education system is awful, because of all of these deep-seated economic issues, there are people whom you would think don't have any reason to take to the streets. I'm profiling a 33-year-old man who is probably from one of the most powerful families in Cairo. His parents were in the foreign service. He's been taking to the streets every day. 
NORTHWESTERN: IS THIS THE SOCIAL MEDIA REVOLUTION?
BOHN: A lot of people say that this is the Twitter revolution. While I think the Internet has mobilized everyone and gotten this going, I think Egypt has been on the brink of this for the past 30 years. When Egyptians take to the streets, there are young people, but there are a lot of older people.
A week ago I was coming out of a café in Cairo, and a guy said to me "I'm proud of the Egyptian youth. I'm as proud like a grandfather. It's truly great."
Yesterday one of the young guys we're profiling, Mohammad, about 24, ran into one of his teachers, who is 75, and his teacher hugged Mohammed and said "Thank you so much for doing this." 
A lot of the people I'm profiling live in a really poor section of Cairo [such as Jasmine Nassef from Imbaba, a poor neighborhood on the west bank of the Nile], people who have no access to a Blackberry or smartphone, people who really aren't plugged into social media but who are still out there fighting and have these feelings of angst. It's hard to really say this is truly a revolution via Facebook or Twitter.
NORTHWESTERN: ARE YOU SAFE?
BOHN: Everyone keeps asking me that, but you know, today was the first day I've really feared for my life. That's because last night [Egyptian President Hosni] Mubarak issued a statement that he would be staying until November but will not be running for president. Some people are saying, OK this is fair, this is practical, we're semi-appeased. Some people weren't happy. 
Today we saw anti-Mubarak protestors having clashes with pro-Mubarak supporters, and this is the first time we're seeing anyone expressing any pro-Mubarak sentiment. What a lot of people are saying is that the National Democratic Party is hiring these people and Mubarak is now trying to divide the people, turn them against each other. So there's a lot more fear in the area today than there had been all week.
Today, it got a little tricky to navigate. We had to climb a barbed-wire fence with a photographer. At some point you have to ask yourself, "OK, at what point do I stop being a journalist and starting thinking about where I am as a person in terms of safety." And because this is really the first time I have been in such a tumultuous reporting situation, I'm still trying to figure that out, to learn all of this and tell a story at the same time. So it's been tricky to navigate, but it's been an overall amazing experience.
NORTHWESTERN: WHAT IS IT LIKE TO WITNESS HISTORY? WHAT HAS MADE THIS EXPERIENCE PERSONAL FOR YOU?
BOHN: I've been here for the past four months, so I can't even begin to claim that I have my finger on the pulse in terms of what's been going on in Egypt during the past 30 years under Mubarak. Since the second I got here, I've been talking with people — Arabic teachers, neighbors — and so many expressed absolute dissatisfaction with Mubarak. They feel that Egypt is becoming the laughingstock of the region, and they feel that things are absolutely stagnant. So to see this change, to see people mobilizing, which they've really never done before, it's really touching to see. I've been absolutely inspired.
—­ Sisi Tang (J12)