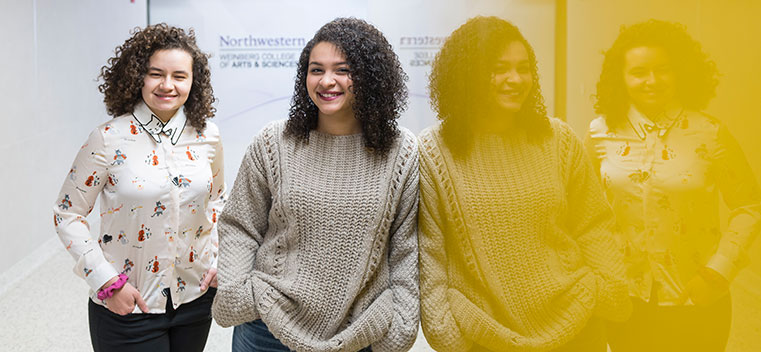 Northwestern Quest Scholars Network student leaders Steffany Bahamon, left, and Madisen Hursey. Photo by Jim Prisching.
Quest Scholars Advocate for Low-Income Students
Story Tools
Share this story
Financial aid benefits all of Northwestern — not just scholarship recipients, say student leaders.
"There's no way I would have been able to attend this institution without financial aid," says Steffany Bahamon, a senior industrial engineering and economics major who was born in Bogotá, Colombia, and raised in Miami. "It's made a massive difference for me."
As president of the Northwestern Quest Scholars Network, a student group that advocates for low-income and first-generation students, Bahamon has also seen the difference the University's investments in financial aid make for her peers.
All first-year students who qualify for Northwestern grant assistance now receive financial aid packages that are loan-free. "Removing that pressure really does make a big difference in the stress level of your average Northwestern student," says Bahamon.
In the last five years, Northwestern has increased undergraduate financial aid by 55 percent, to approximately $160 million in 2016–17. Expanding scholarships and financial aid "will continue to open up the talent pool that Northwestern can access," Bahamon says.
"It's attracting more students to Northwestern who might not otherwise have realized it was an option for them," agrees sophomore Madisen Hursey, a psychology major who serves as vice president of the Quest Scholars Network. "Talent does not only exist among the wealthiest kids in the country."
About 17 percent of last fall's entering first-year class was eligible for federal Pell grants, designed to assist students from low-income families.
"These kids are so intelligent, and they have so much potential, but they get stuck under the weight of the lack of resources," says Hursey, who went to public high school in Palatine, Ill. She had planned to attend community college before realizing that financial aid would make an elite university such as Northwestern affordable.
Even when financial aid covers their tuition, fees and room and board, low-income students often face other hurdles. Course affordability is a big issue for students who may lack funds to pay for required software, a lab coat or costly textbooks. Quest works to raise awareness of the issue and suggest potential solutions, such as putting more course readings on reserve.
The Northwestern Quest Scholars Network is affiliated with QuestBridge, a national organization that connects exceptional low-income youth with leading colleges. The network partners with the office of Student Enrichment Services, established in 2014, to serve all first-generation and low-income students at Northwestern. A shared focus is expanding access to resources — for example, SES loans laptops to students and obtains donated winter gear for those who come to Northwestern from warmer climates unprepared for frigid temperatures.
Many students defray such expenses by taking on part-time jobs, but even so, says Hursey, "the experience of being a Northwestern student can be really expensive." Financial barriers can keep students from joining a fraternity or sorority, attending Ski Trip or paying the fees to take the GRE.
Several University departments offer financial assistance to expand access to such opportunities, but until recently the application process was cumbersome. "Low-income students apply for scholarships, stipends and vouchers a lot," says Hursey. "You have to tell your story and prove yourself worthy of the funds every single time." Responding to student input, in early 2017 SES launched One Form, an online tool that allows students to apply for multiple funding opportunities through a streamlined application.
Yearlong, Quest strives to build community among students by organizing social and career-focused events. The group sponsored a weeklong "Money Matters" program in 2017 featuring workshops on socioeconomic status, class and privilege. SES hopes to make it an annual event.
After graduating in June, Bahamon will move to Washington, D.C., and start a job as a technology development associate with Capital One. Hursey, who participates in the Brady Scholars Program in Ethics and Civic Life, will continue her advocacy with Quest.
Both believe that all Northwestern students benefit from engaging with people from different backgrounds and income levels — an experience that positions them to thrive in a diverse world. "The more you are able to interact with people who don't look like you and don't have the same experiences as you, the more empathic you can be," says Hursey. "It's really important to develop those interactions among students."