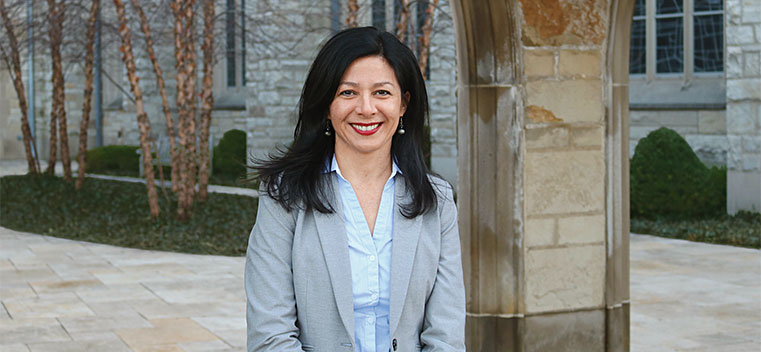 Philosophy Behind Bars
Story Tools
Share this story
Professor Jennifer Lackey has offered courses on ethics and mass incarceration at an Illinois maximum-security prison.
When philosophy professor Jennifer Lackey lectures on the death penalty in her ethics class, it's not just theoretical for her students. Some of them spent many years, even decades, on death row before it was abolished in Illinois in 2011. Others are serving natural life sentences and argue that the death penalty would be preferable.
Lackey, the Wayne and Elizabeth Jones Professor of Philosophy and director of graduate studies in philosophy, has taught two courses — on ethics and, more recently, mass incarceration — at Stateville Correctional Center, a state prison near Joliet, Ill.
"Many of my students haven't learned in an academic setting about the data and history of systemic discrimination," Lackey says. "My mass incarceration class helps many of my students understand how they ended up in prison at all."
Her guest lecturers have included Congresswoman Jan Schakowsky, two state senators, attorneys from Northwestern's Bluhm Legal Clinic and other Northwestern professors. One of those professors, Alex Kotlowitz, senior lecturer in journalism and writer-in-residence at Northwestern's Center for the Writing Arts, lectured on storytelling. He challenged the students to write about their cells. He was taken by what they wrote and worked with the inmates to develop and edit their stories. The New Yorker published five of the stories on its website. The stories were also read on the Written Inside, a podcast created by Kotlowitz and produced by WBEZ Chicago's Colin McNulty.
In one piece, "My Prison Cell: Learning to Hear on a Cardboard Piano," Demetrius Cunningham writes about building a cardboard piano in his cell and teaching himself to play. Kotlowitz read the story at Chicago's Pop-Up Magazine, a national "live-magazine" show, as Cunningham's parents listened in the audience.
Lackey's three-hour, seminar-like classes are immensely popular, with a long waitlist. She hopes to make classes available to more prisoners because she believes in the rehabilitative effects of prison education. She's talking with the Northwestern administrators and the Illinois Department of Corrections about expanding course options, possibly for credit toward a Northwestern degree. 
However, most of her students at Stateville will not have a chance to re-enter society. Almost all of its inmates are serving long sentences, mostly for violent crimes. But she hopes her classes provide more meaning to life behind bars. 
"When class ends, the discussion continues," Lackey says. "They go back to their cells and keep debating the philosophical questions from the classroom. I know my class has improved the prison community at Stateville and improved the quality of life there, which is what matters most to me."