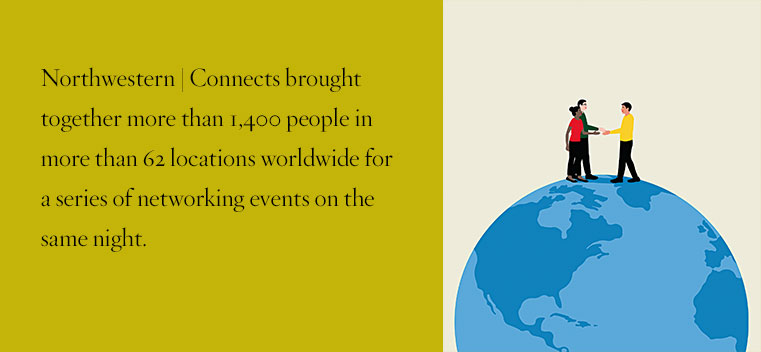 Illustration by Anna Parini
Expanding Global Reach
Story Tools
Share this story
Now in its third year, Northwestern | Connects provides opportunities for international alumni to build a Northwestern community where they live.
Last fall Allen Moreland '85 randomly met several Northwestern alumni through his work as a lawyer in Rio de Janeiro. The encounters prompted him to contact the Northwestern Alumni Association to learn how he could connect with other alumni in his home of three years.
"I thought, 'We share this special experience that no one else in town shares with us, and we should have a way of knowing about each other and coming together,' " he says.
With help from the NAA, Moreland and a small group of local alumni kicked off this local effort on Jan. 24 by holding Rio's first Northwestern | Connects event. The annual program brought together more than 1,400 people in more than 62 locations worldwide for a series of networking events on the same night.
In Rio more than a dozen alumni gathered on a hotel rooftop overlooking scenic Copacabana Beach.
"No one needed ice breakers. Everyone was talking and eagerly exchanging what they knew about Northwestern," Moreland says. "Now we've got to figure out our next event here because there is a desire to keep the momentum going."
Other alumni, like Moreland, are seeking to connect with the Northwestern community — Rio was one of seven new international locations represented at this year's Northwestern | Connects. In the United States there were 10 new locations.
"We're expanding our reach and ensuring that all alumni, regardless of school, program or campus, feel welcome," says Sarah Wagoner '16 MS, the NAA's senior associate director of global engagement, who provided alumni organizers with programmatic and marketing support, partial funding and Northwestern- and NAA-branded giveaways to hand out at each location.
Northwestern | Connects is part of the NAA's efforts to increase Northwestern's presence and engage the 17,000 undergraduate and graduate alumni who live abroad. In 2014 the NAA created the Global Ambassadors program as a way for alumni to build relationships with one another in countries with no formal alumni club (currently, there are 15 international alumni clubs). As of April 2017, 45 global ambassadors were volunteering in 35 countries. Moreland and Jorge Arenales '09 LLM, a lawyer in Guatemala City, are among them.
"Northwestern has opened a lot of doors in my academic, professional and personal life," Arenales says. "In Spanish, there's an expression, 'Preguntando se llega a Roma' [If you want to go to Rome, ask a lot of questions, and you'll get there]. I have a way of acting like this in my life. If I'm interested in something, I just ask. That's what I did."
Arenales spearheaded the first Northwestern | Connects event in Guatemala City this year, where 20 alumni mingled in a restaurant owned by Pablo Rodriguez '09 MBA. The positive experience reinforced Arenales' interest in planning more local events and establishing a Northwestern alumni club that would encompass all Central American countries.
In addition to seeing more alumni organize events this year, the NAA also expanded Northwestern | Connects by including — for the first time — current parents. Study abroad and newly admitted international students also received invitations, as they had in the past.
Seven students from the Medill School of Journalism, Media, Integrated Marketing Communications, who were living and working in Argentina while completing their journalism residencies, attended the local mixer in Buenos Aires. Jamie Leventhal, a junior, enjoyed meeting alumni "from different walks of life" and practicing her Spanish with native speakers.
"As a student who is studying abroad, it's nice to connect to the Northwestern community because you can learn about new cultures and meet different types of people while you still have common ground," she says.
Across the globe, the well-established NU Club of Shanghai drew 40 alumni and incoming students to its event, which was combined with an annual sit-down dinner for the Chinese New Year. President Andrea Chen '07 helped launch the club in 2013 and has organized the Northwestern | Connects event each year since it began.
"I loved my experience at Northwestern and want to be part of this movement to strengthen its international presence for students and alumni," she says.