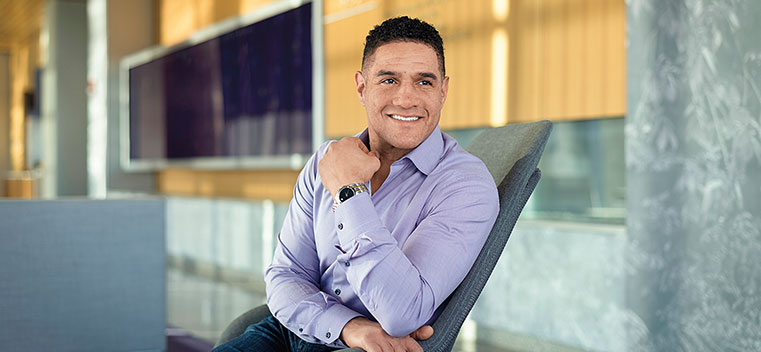 Chris Rooney chaired the 2017 A Day with Northwestern event. Photo by Jim Prisching.
Alumni in Action: Chris Rooney
Story Tools
Share this story
Alumni volunteer Chris Rooney, a former Northwestern football walk-on on the Wildcats' 1996 Rose Bowl squad, chaired A Day with Northwestern.
In 2010 Chris Rooney '96, '02 MBA heard Professor Victor Goines deliver a talk about jazz improvisation and culture at A Day with Northwestern, an annual Northwestern Alumni Association event that features lectures by prominent faculty and alumni.
Rooney — intrigued by the parallels between jazz and hip-hop, his favorite music genre — came up with the idea to create a class at Northwestern about the anthropology of hip-hop. He pitched the course to several administrators throughout the University and teamed up with his friend Kyra Kyles '98, '98 MS, who was an editor at Jet magazine with more than a decade of experience as a hip-hop culture and music writer. In 2012 they co-taught an undergraduate African American studies course in Weinberg College called Hip-Hop Origins and Directions.
After turning his idea to teach a class into reality, Rooney joined the executive board of A Day with Northwestern, which he had attended annually for more than a decade and found "a fascinating way to keep alumni learning."
"I thought, 'I am interested in what's being talked about at this event, so how can I get more involved in what I'm interested in?' " says Rooney, who served as chair of this year's program, held April 22.
Throughout his life, Rooney's dogged pursuit of his wide-ranging interests has brought him success.
A Minneapolis native, Rooney came to Northwestern in 1992 with a desire to play football. By sophomore year he joined the team as a walk-on. Two years later Rooney, a psychology major and Academic All-Big Ten honoree, earned a football scholarship and played cornerback on the 1996 Rose Bowl team.
In 2002 Rooney earned an MBA from the Kellogg School of Management, where he focused on entrepreneurship. He later started Digital Bridge Solutions, a Chicago-based web development business. Despite launching the business during an economic downturn in 2009, he has grown the company to employ 20 people.
He also became a flying trapeze instructor with the Trapeze School of New York in Chicago's Lincoln Park, which has given him "new ways to connect with people and bring joy to their lives."
As a Northwestern volunteer, he connects with alumni and students in many ways — as a mentor with the football alumni mentorship program started by former teammate and head football coach Pat Fitzgerald '97 and with the Northwestern Network Mentorship Program. He also offers job-shadowing and internship opportunities for students and is an active member of the Northwestern University Black Alumni Association.
For A Day with Northwestern, Rooney worked to diversify the panel of speakers and attract a younger audience through social media and on-campus marketing. This year's sold-out program featured a lecture by history professor Geraldo Cadava about the hit musical Hamilton and a keynote by sports journalist and trustee Michael Wilbon '80.
"I've always prided myself in being well rounded, open minded and able to integrate different fields of study," Rooney says. "I like to think I bring that to my role as a volunteer as well."