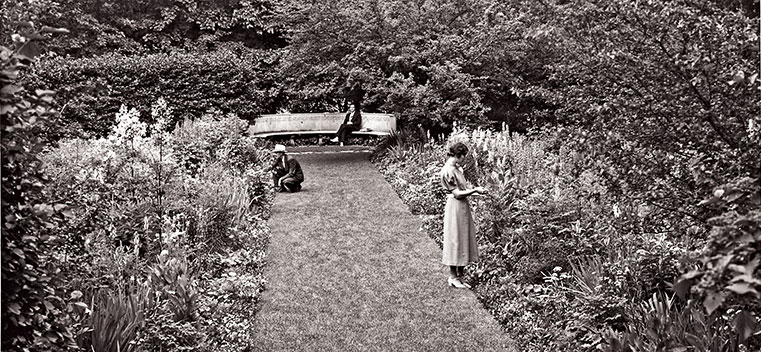 The first seeds of the Shakespeare Garden, designed by famed landscape architect Jens Jensen, were planted in 1915. Planting was completed in 1920. Coutesy of University Archives.
Then: A Peaceful Oasis
Story Tools
Share this story
Tell us what you think. E-mail comments or questions to the editors at letters@northwestern.edu.
Ever wonder about the designations we use throughout Northwestern to identify alumni of the various schools of the University? See the complete list.
Find Us on Social Media
Nestled in the middle of Northwestern's Evanston campus, the Shakespeare Garden brims seasonally with flowers and shrubs, framed by a double wall of hawthorn hedges that were started from seed in France a century ago. Over the past 100 years, the campus bustle has increased as buildings have risen up around it, but the garden retains its Elizabethan feel.
"It's just a wonderful, little, quiet oasis that you can go to and feel kind of removed from the rest of Evanston and Northwestern," says Linda Eggers, co-chair of the Shakespeare Garden Committee of the Garden Club of Evanston. "It provides a quiet contemplative place to just relax and enjoy the surroundings."
The garden was created in 1915 by the Garden Club of Evanston, in part as an expression of sympathy for America's World War I British allies. It was an endeavor by more than two dozen Evanston civic leaders in commemoration of the 300th anniversary of the Bard of Avon's death. Jens Jensen, the famed Danish-American landscape architect, designed a Tudor-style "hedged-in garden surrounded by a forest border — a sun opening in the woods," with eight beds in the 70- by 100-foot plot. The plantings include varieties of perennials and annuals, shrubs, trees and herbs mentioned in Shakespeare's plays, including rosemary, lavender, holly, pansy and poppy.
Construction took place from 1916 until the garden's dedication in 1930. In 1988 it was listed on the National Register of Historic Places.
This summer, on June 14, the Garden Club of Evanston will host a small celebration with Evanston and Northwestern leaders to mark 100 years since the land was deeded to the club by the University. Garrett Place, a nearby street, will also receive the new honorary name of "Shakespeare Garden Founders Way."
Full of fond memories, the garden has been the site of countless marriages and proposals, anniversary celebrations and first dates. A regular spot for weddings and other events, 25 couples tied the knot there last year alone. "It's sometimes surprising how much people value the place," Eggers says. "It's very touching."