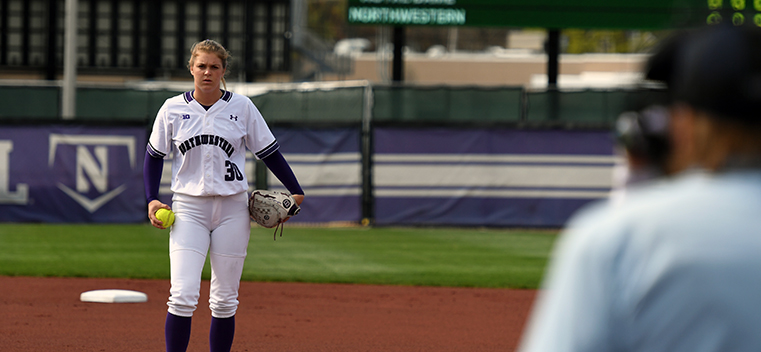 Kaley Winegarner on the mound vs. Notre Dame in 2017
Softball Hurler Continues Mound Rebound
Story Tools
Share this story
After two ACL injuries, pitcher Kaley Winegarner finds success by learning to trust herself and her teammates.
After tearing her ACL twice in high school, pitcher Kaley Winegarner wasn't sure if she could play collegiate softball.
She had a standing offer from Stanford, but after the Cardinal had a coaching change, she decided to look elsewhere. Her travel team coach reached out to several schools, including Northwestern, to see if there was any interest. Head coach Kate Drohan was intrigued.
"She decided to take a chance on me, which I am so grateful for," Winegarner says. "Kate put her faith in me and my ability to come back."
During her first season with the Wildcats, Winegarner appeared in only 15 games. She spent most of the year learning from the junior and senior pitchers, all the while battling to overcome the fear of tearing her ACL again.
"Subconsciously I wasn't allowing myself to pitch like I had before," says Winegarner, a junior from Garden Grove, Calif. "Once I got past that wall, I was able to get back to pitching like I used to."
In her sophomore year, Winegarner had a breakthrough, starting 16 games and earning a complete-game win in each of her final four starts of the year.
She says the key to her success was "just trusting myself and trusting my team and knowing that if I get my job done, I'm going to have a team behind me that can get their job done," she says.
Almost four years after her last surgery, Winegarner still wants to prove that she's healthy and better than ever.
"I wanted to be able to show people that no matter how much adversity I had faced, I still had it in me," Winegarner says. "I am still the pitcher that I once was."
(Update: Early in the 2018 season, Winegarner tore her ACL for the third time and had season-ending surgery in early March. At the time of her injury she had pitched in five games, including three starts, going 1-2 with a 4.47 ERA.)