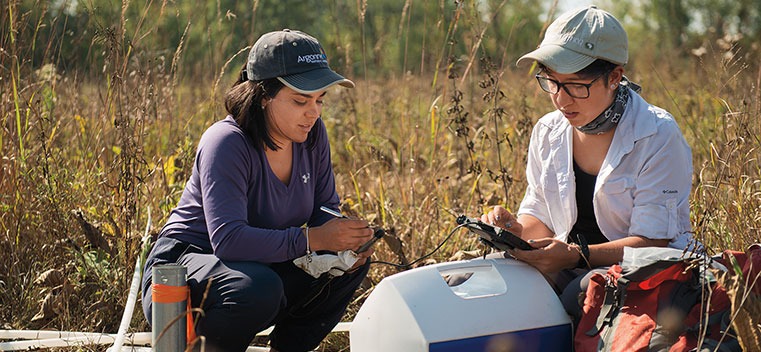 Liliana Hernandez Gonzalez, left, and Vivien Rivera download soil moisture data at the Gensburg-Markham Prairie in southern Cook County. Photo by Alex Garcia.
Story Tools
Share this story
We'd Like to Hear from You
Northwestern welcomes signed letters of 250 words or less from readers. We reserve the right to edit all letters. Please send correspondence to the
Editor
Northwestern
1800 Sheridan Road
Evanston, IL 60208-1800
Fax: 847-491-3040
E-mail: letters@northwestern.edu
Find Us on Social Media
Solutions for Climate Change
The cover story, "Sustainable Solutions" [winter 2017], gave a wonderful sampling of the many efforts to improve environmental and societal resilience through the Institute for Sustainability and Energy at Northwestern. The goals identified in the article, such as quantifying a prairie's ecosystem services and designing climate adaptation programs for affected farmers, are among society's most pressing. They are also among the most complex, requiring intimate knowledge of how science and society are coupled.
These researchers deserve recognition for both their vision and their perseverance. I'm proud to see so many in the Northwestern community dedicated to solving my generation's "Manhattan Project."
Kevin Roche '17 PhD
Chicago
Admittedly, I rarely read much of Northwestern Magazine, but I found Sean Hargadon's story, "Sustainable Solutions," captivating and inspiring. I'm an engineering grad and physician currently working for GE. Thank you so much for letting us all know about this amazing work right here at Northwestern. I'm excited to learn more and plan to reach out to ISEN and several professors. Keep up the outstanding work!
Todd Clark '94
Evanston
I read "Sustainable Solutions" with interest and also a story on the Northwestern website about the solar panels that have been installed on the roof of the newly renovated Kresge Hall. The online article mentions that the solar energy from the panels would supply 5 percent of the building's energy needs.
Five percent? Maybe putting some windmills in Lake Michigan would account for another 5 percent. Throw in another 2 percent for geothermal, and we're up to 12 percent. Where does the remaining 88 percent come from? The answer clearly is oil, natural gas, coal and nuclear.
The purpose of this letter is by no means to belittle or trivialize the efforts of the scientists and engineers who are attempting to address one of the planet's great issues. It is to point out the very inconvenient truth that the effects on the environment of global population growth and economic development will almost certainly overwhelm the benefits of the adoption of cleaner sources of energy, which also appear to be far more expensive than the well-developed carbon-based and nuclear alternatives.
Gary A. Chalus '73 MA,
'76 PhD
Brooklyn
As a Northwestern alumnus and now a professor of urban sustainability and planning conducting research on campus and university sustainability, I am pleased to learn that Northwestern is now embarking on a sustainability initiative. The work of the Institute for Sustainability and Energy at Northwestern as reported in the article on "Sustainable Solutions" is noteworthy.
Habib M. Alshuwaikhat '88 PhD
Professor of Urban Sustainability and Planning
King Fahd University of Petroleum & Minerals
Dhahran, Saudi Arabia
Powering On for the Greater Good
The winter 2017 issue of Northwestern Magazine was refreshing. For an hour I could read about sustainability, medical research, history and human rights. You featured an article, devoid of hype about terrorism, regarding a Muslim minority fleeing persecution.
Reading the winter issue, it was almost as though our country had, in 2016, rejected racist nationalism. An important institution in the Midwest is powering on, fueled by people from more than a hundred nations, to work for enlightenment and justice, in spite of daily attacks on our democracy by those who temporarily control Washington, D.C.
Bob Ricketts '67, '69 MD
Grand Junction, Colo.
Talking Statues
I really enjoyed the story about the Northwestern alumni who gave their voices to various sculptures in Chicago ["Look Who's Talking," winter 2017]. My only complaint is that you didn't mention that the three statues in Oz Park illustrated on the map (Cowardly Lion, Tin Man and Dorothy and Toto) were created and installed by Chicago sculptor John Kearney.
I am the widow of John Kearney and participated in the creation of the sculptures in his studio from 1995 to 2007. The community really loves Oz Park and certainly enjoys that the statues "speak."
Lynn Haigh Kearney '49
Chicago
A timely application of "Statue Stories" would be to install smartphone "tags" nationwide at statues of American heroes who were also slave owners. A brief factual biography of each hero-as-slave owner would help expose and correct the sanitized history of slavery that we all learned in school — that is, if slavery in America was even mentioned.
Patrick Story '63 MA, '68 PhD
Portland, Ore.
What fascinated me the most about the article ["Look Who's Talking"] was the idea of creating an interactive moment with statues and monuments throughout the city of Chicago, sort of like a virtual historical museum that can be experienced not only by folks who live in Chicago but by vacationers and global visitors who are out and about with their "smart" devices. And I like the idea of Northwestern alumni participating and sharing their knowledge and skills to heighten the awareness of the richness of Chicago's history.
I think this would be a great idea to bring to Los Angeles ahead of the planned Summer Olympic Games.
Harrison Miles '77 MS
Whittier, Calif.
The Tragedy of Aleppo
I had tears in my eyes while reading Dr. Samer Attar's essay, "Aleppo's True Heroes" [Purple Prose, spring 2017]. I was a 10-year-old girl when war started in Bosnia, and his story reminded me of photos that we were seeing back then on a daily basis.
Last December I saw similar images from Aleppo on TV in a Zurich hospital while holding my newborn son. I had a feeling of guilt, being in a nice, warm room and having a regular meal, while so many Aleppo citizens and their children were suffering and did not know what tomorrow would bring.
It reminded me how easily we take for granted our security, well-being or, simply, our place of birth.
Anida Omerbegovic '13 MBA
Zurich
LIFESAVER'S LEGACY
The story about Lawrence O. Lawson and the Evanston Lifesaving Station ["Coast Guard Cutter Honors Hero's Legacy," Our World, Campus Life, fall 2017] inspired me to choose a photo of the USCGC Lawrence Lawson for the cover of U.S. Notice to Mariners (of which I am one of the editors). A photo of the cutter will appear on the cover of each weekly issue during the first quarter of 2018, along with the following brief description of the ship and the history of the lifesaving station:
"Cover Photo: The USCGC Lawrence O. Lawson is the 20th sentinel-class cutter, built at Bollinger Shipyards in Lockport, La., and commissioned on 18 March 2017. She is 154 feet long, has a beam of 27 feet, a draft of 10 feet, and displaces 359 tons. Like all Sentinel-class cutters, her primary missions are search and rescue, and interception of drug and people smugglers. She has a complement of two officers and 20 crew. The cutter is named for Lawrence O. Lawson, the United States Lifesaving Services station keeper in Evanston, Ill., during the late 19th century. The Evanston station was the nation's first and only student-manned station. Over the course of four decades, 77 Northwestern University students saved more than 400 people, including the 18-man crew of the Calumet which ran aground in a fierce blizzard on Thanksgiving Day 1889. The Lawrence O. Lawson's seal features a Wildcat, the mascot of Northwestern University. The colors on the crest are purple and white, the colors of Northwestern, and the compass arrow points to the northwest. Her home port is Cape May, N.J."
Jerry Hyman '71
Sterling, Va.