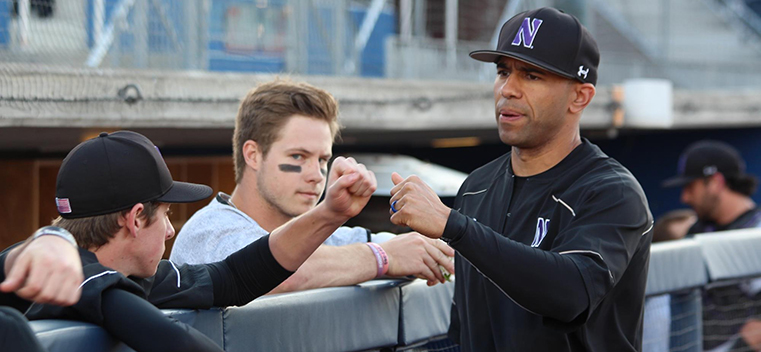 Spencer Allen, right, has Northwestern baseball primed for success in his third season as head coach.
No More Moral Victories
Story Tools
Share this story
Last year's late-season run to the Big Ten title game has baseball head coach Spencer Allen and the Wildcats ready to take the next step.
Trust, passion, development. That is the mantra for baseball coach Spencer Allen, who has made those characteristics a focus in his effort to turn around a program that hasn't posted a winning record in nearly two decades. After witnessing Northwestern's rise to prominence in other sports, Allen saw an opportunity to build a winner.
"I followed Northwestern, with what Coach [Pat] Fitzgerald has done with his team, saw a guy like Chris Collins, who came from Duke, and I saw the potential that this program had," says Allen, who came to Northwestern from the University of Illinois.
Heading into his third season, Allen is already seeing results. The Wildcats are coming off their first Big Ten Tournament appearance since 2010, including a run to the tournament's championship game. The team hadn't been there since 1984.
With a roster featuring veteran leaders and young talent, Northwestern overcame a slow start to win 27 games in 2017, the program's most since 2000 and a huge improvement over Allen's first season, when the team lost a program-record 39 games.
Even as his team struggled, Allen knew that by finding young men who are passionate about the game, building trust between his players and coaching staff and developing those players on and off the field, the program would succeed — no matter how long it took.
"I think it's about patience," Allen says. "We looked at the run of success that we had late last season and that truly started in our first year. We didn't see the results, but the guys were still working just as hard and were laying that foundation."
Allen's enthusiasm and belief in Northwestern sold second baseman Alex Erro on the program. One of Allen's first recruits, Erro showed flashes of star potential in 2017, starting all but two games and tallying a 17-game hitting streak — the longest for a Northwestern player since 2008.
"The new culture and energy he's brought to the program is exciting," says the sophomore from Miami. "Everyone wants to be a part of something that's coming up, and I think that last season was indicative of that."
While last season was encouraging, the Wildcats aren't satisfied. Erro says the team has set lofty goals, including winning the Big Ten Tournament for the first time in program history and making the NCAA Tournament, something the team hasn't done since 1957.
Allen says dedication to the team's mantra will bring that success. "We just have to stay grounded," he says. "We did have a little bit of success. We have to handle that and make sure that we just stay motivated and don't lose that developmental mindset."