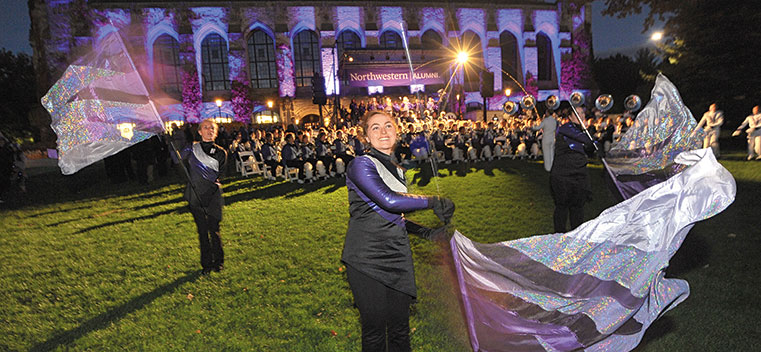 The Wildcat Marching Band performs during the pep rally on Deering Meadow.
Homecoming and Reunion 2015
Story Tools
Share this story
More than 12,500 alumni, students and friends celebrated during Homecoming and Reunion Weekend in October. (Check out photos from all of the festivities.)
Darnell Autry '98, the star running back of Northwestern's 1996 Rose Bowl team, served as grand marshal of the Homecoming parade. The next day, Autry, dozens of his teammates and their coach, Gary Barnett, celebrated the 20th anniversary of their remarkable 1995 season during a halftime ceremony at the Wildcats' game against Iowa.
Members of reunion classes contributed $67.8 million to their class gifts, which support a wide range of University priorities. Reunion gifts also count toward We Will. The Campaign for Northwestern.
Alumni who graduated in years ending with 1 or 6, plus the class of 2015, will celebrate Reunion 2016 Oct. 20–23. Members of the class of 1966 are also invited to attend Commencement on June 17 as part of their 50th reunion. Visit alumni.northwestern.edu/reunions for more information.