Then: Breaking Barriers
Story Tools
Share this story
Gridiron star became decorated Tuskegee airman.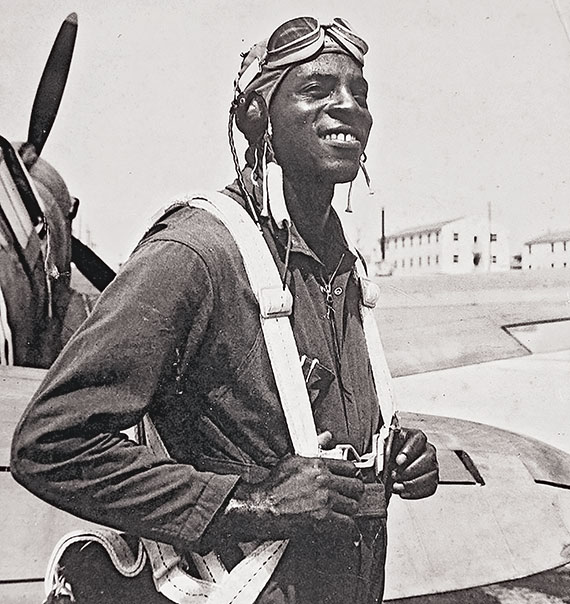 In 1943 Bernard Jefferson earned his wings as a pilot with the celebrated Tuskegee Airmen. He flew more than 100 missions over Europe. Courtesy of MLive Media Group/Grand Rapids Public Library.

On the gridiron, on the front lines and in the classroom, Bernard "Bernie" Jefferson '39 left his mark.
The youngest of three sons of a Pullman porter, Jefferson was born in Grand Rapids, Mich., in 1918. He and his brothers — Carter and fellow Northwestern alumnus Harold '39 — were among the first African American students to attend Ottawa Hills High School, where Jefferson played football and basketball and ran track. At Northwestern, Jefferson was one of the first African American students to live on campus in Evanston.
On the football field, the 5-foot-11 halfback and punter boasted a number of highlight-reel runs and receptions during his three-year career and helped the Wildcats win a Big Ten Conference title in 1936. Jefferson's crowning moment came in 1938 when he scored the lone touchdown in Northwestern's 6-3 victory over second-ranked Minnesota (look for No. 31 for Northwestern in the video highlights), a perennial power. He led the team in scoring that season with 24 points.
Jefferson, one of many African American college football stars passed over by the NFL in the late 1930s, founded his own all-black semipro football team, the Chicago Brown Bombers. He later played for the Chicago Rockets in the late 1940s.
When World War II broke out, Jefferson enlisted in the U.S. Army Air Corps. He flew more than 100 missions over Europe with the 332nd Fighter Group, better known as the Tuskegee Airmen, and earned a Distinguished Flying Cross for eliminating two German radar posts in Toulon Harbor in southern France in an August 1944 attack.
After the war Jefferson earned a master's degree in education and enjoyed a distinguished 35-year career as a teacher and administrator in the Chicago Public Schools. From 1971 to 1980 he served as the first African American principal of Cook County Jail School, where he improved the institution's GED program and expanded the faculty.
After retiring, Jefferson traveled the world with his wife, Betty, before eventually settling down in Atlanta and later Arizona. Jefferson died in 1991 at the age of 73 in Scottsdale, Ariz.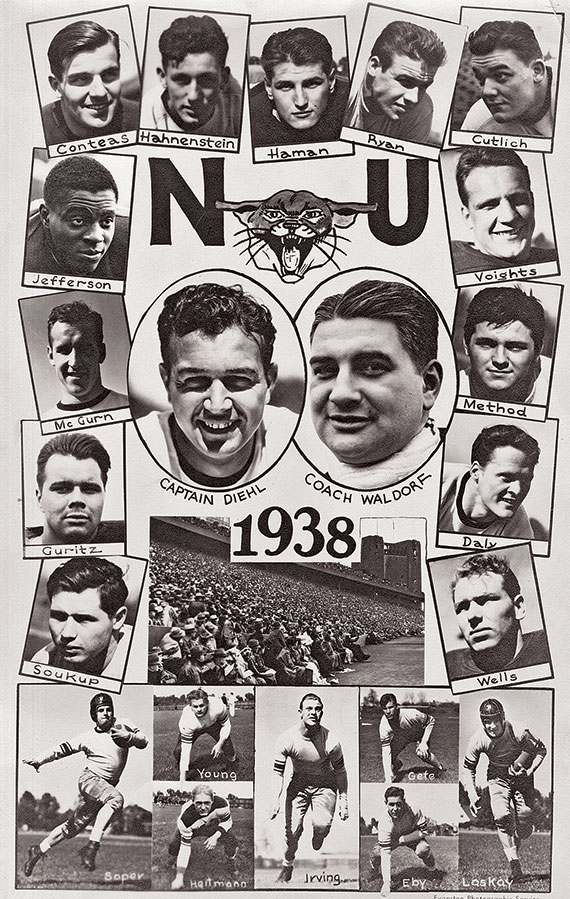 Jefferson, top left in the team composite, was a halfback for the 1938 Wildcats. Courtesy of University Archives.