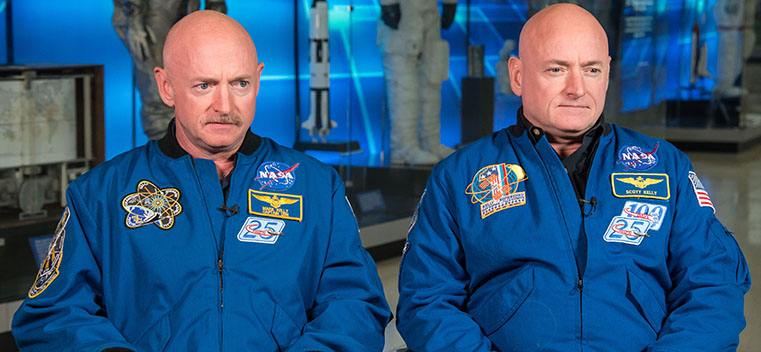 Astronaut Scott Kelly, right, and his brother, former astronaut Mark Kelly. Photo by Robert Markowitz/NASA/Johnson Space Center.
The Twin Experiment
Story Tools
Share this story
Northwestern team studies health effects of long-term space travel.
A Northwestern-led research team is eagerly awaiting astronaut Scott Kelly's return from the International Space Station in early March. The team, one of 10 selected by NASA to explore the health effects of long-term space travel, is studying how the space environment affects the microbiota "ecosystem" in the human gastrointestinal tract.
Led by Northwestern biology professor Fred Turek, the team will look at biological samples collected from twins Mark and Scott Kelly. Scott is the first American to stay in space for more than 215 days. Mark, also a veteran astronaut and husband of former U.S. Rep. Gabrielle Giffords, is the ground-based control. (NASA scientist Craig Kundrot '82 initially coordinated the twin studies.)
Using biological samples collected from the Kelly brothers before, during and after Scott's year in space, the researchers will use DNA sequences to identify the microbes inhabiting the gastrointestinal tracts of the twins. The study is one of the first to examine how living at zero gravity for a year affects a human's gut microbiota.
"It is imperative that studies be carried out on long-term missions in space so that any adverse changes can be identified and countermeasures can be developed to insure the safety and health of our astronauts on extended spaceflight missions, such as to Mars," says Turek, the Charles E. and Emma H. Morrison Professor of Biology.
The quantity of data and samples from a lengthy stay in space combined with the identical twin comparison make this study unusual, says research team member Martha Hotz Vitaterna '92 PhD.
"Identical twins provide unique advantages," says Vitaterna, research associate professor of neurobiology. "We can directly compare the space twin with the Earth twin because they are a genetic match.
"The results of these studies are going to give us some surprises, but ultimately they will teach us how to keep a healthy microbiota and, therefore, a healthy human," says Vitaterna, director of Northwestern's Sleep, Circadian and Other Rhythm Experiments (SCORE) Core research facility.
Turek and Vitaterna are faculty members in the Center for Sleep and Circadian Biology.