Lacrosse Crossover Star
Story Tools
Share this story
Northwestern's Selena Lasota won't be boxed in.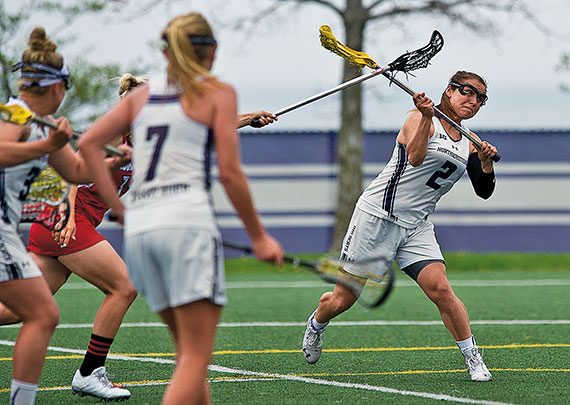 Selena Lasota (2) fires a pass.
When Selena Lasota returned to Campbell River, British Columbia, her hometown on the northeast coast of Vancouver Island, following her freshman year at Northwestern, she grabbed her box lacrosse stick and headed for the nearest wall, pounding it with rapid, successive throws. She calls it "wall ball."
Lasota, now a sophomore, says she misses box lacrosse, the sport she grew up playing with the boys in her hometown. Box lacrosse is an indoor version of field lacrosse, the sport Lasota starred in during her freshman year in Evanston. It is played with hockey-like walls and is a much more physical game. Up until three years ago, it was the only game she knew.
You might say, though, that lacrosse is in her blood. Lasota is a member of the Katzie First Nation, an indigenous group in British Columbia. Aboriginal and Native American tribes started playing versions of lacrosse more than five centuries ago.
For most of high school Lasota was relatively unknown to field lacrosse programs in the States. It wasn't until 2012 when she played in a field lacrosse showcase in Naples, Fla., that Northwestern assistant coach Danielle Spencer '10 took notice. In Lasota she saw a player with superior stick skills and a free-flowing, creative offensive game. She saw a potential star.
It didn't take long for that potential to pay dividends.
Lasota's college career began with a four-goal performance in a 12-11 win over the University of Southern California. She added two six-goal games throughout the season and finished the year with 69 goals, good enough for second in the Big Ten and fifth in the country. The midfielder was named the Big Ten's Freshman of the Year and Lacrosse Magazine's Rookie of the Year and an All-America selection. Now she's focused on helping her team improve on back-to-back 14-win seasons.