Game On for eSports
Story Tools
Share this story
Award-winning club builds gaming community.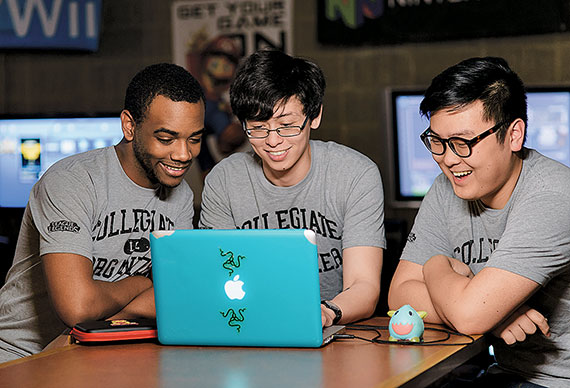 The Northwestern eSports executive team, from left, Travis Burtin, Kyle Lueptow and James Yoon. Photo by Sean Su.
From Seoul to Los Angeles to Berlin, fans are packing stadiums and arenas to watch their favorite teams battle head to head in one of the world's fastest-growing competitions, and we're not talking basketball, lacrosse or cricket.
This is eSports, or competitive gaming, an increasingly popular pastime that pits teams of gamers against each other in multiplayer video games. At Northwestern the eSports club, founded in 2014–15, brings together a total of 40 to 50 students every week to play Super Smash Bros. and League of Legends. Players of all skill levels are welcome, from curious beginners to the expert League team, which competes against other collegiate squads from across the Midwest.
Last fall the eSports club took home the 2015 Wildcat Excellence Award for Outstanding New Student Organization.
Though most games can be played online, club president James Yoon thinks there's a benefit to putting players in the same room. "We play the games and sometimes watch professional matches together," says Yoon, a junior from Manhattan. "There's a difference between communicating through the Internet versus in person. It's a more friendly experience. We feel like it helps make connections and build a community."