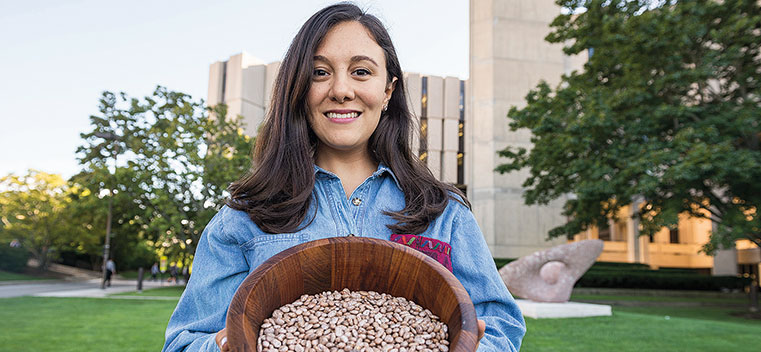 After studying diabetes in Guatemala, Odette Zero put together recipes that use healthy local foods, including a vegitarian chili recipe. Black beans are a great source of protein for diabetics and a staple in Guatemalan diets, Zero says.
Around the World
Story Tools
Share this story
Northwestern students Odette Zero, Lakshmi Karuparthy, Jessica Pouchet and the Treblemakers make their mark through research, service.
From Guatemala to India to Tanzania and beyond, Northwestern undergraduates are making a difference in local communities while making fascinating discoveries, exploring their roots and learning a bit about themselves.
A Personal Look at Diabetes
Odette Zero: Guatemala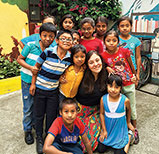 Odette Zero was volunteering in Guatemala, her mother's native land, four years ago when she noticed a common narrative: In every family there is at least one person suffering from diabetes. This past summer she used funding from Northwestern's Roberta Buffett Institute for Global Studies to travel to San Miguel Dueñas, in south-central Guatemala, to collect "illness narratives," or qualitative interviews with people who are diabetic. She found that due to a variety of roadblocks — including long lines for appointments at the monthly health post and a scarcity of medication — many patients never receive the treatment they require.
"Guatemalans view diabetes as fatal," says Zero, a junior anthropology major and global health minor. "People die from kidney failure, people get their arms and legs amputated, and all because there's not enough access to medicine or education."
Zero wanted to change that. She started by educating diabetics about healthy eating. She adapted recipes using diabetic-friendly ingredients that are readily available in the region. She also developed a presentation for a local nonprofit to clear up misconceptions about the illness. Many of those she interviewed, for example, believed that insulin causes blindness, though it's really an effect of the illness, not the medication. (Read more about Zero's research in Guatemala.)
While she is passionate about her work abroad, she also stressed the need for change at home. With help from Michael Diamond, a lecturer in global health studies, she was one of the founders of the Northwestern Community Health Corps, a group that trains volunteers to work at local libraries to help community members navigate through their health-related questions and connect individuals to existing health information and resources.
Fighting the Fever
Lakshmi Karuparthy: India
Throughout human history, malaria has killed more people than wars, famine and natural disasters combined. But junior Lakshmi Karuparthy has not given up hope.
A radio/TV/film major, global health minor and pre-med student, Karuparthy was accepted to the Clinton Global Initiative University to work on a project to educate villagers in remote eastern India on the causes, treatment and prevention of malaria.
She began the project, Fired Up from the Fever, her junior year of high school with her father, an anesthesiologist, and sister. Since then they have traveled to India multiple times, running educational workshops for villagers and improving communication about the disease.
During her gap year before medical school Karuparthy hopes to make an educational film that can be used throughout India and a full-length documentary on the Indian malaria epidemic. "Maybe we won't change the entire world," she says, "but we're definitely having an impact."
AMONG THE TREES
Jessica Pouchet: Tanzania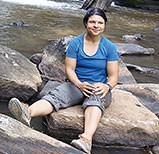 When Jessica Pouchet went to work in Tanzania with a nongovernmental organization, she noticed something strange. She found that the East African country's famous national parks were "prohibitively expensive" to Tanzanians — only foreign tourists could afford to visit them. Most of these natural areas were protected using "fortress conservation," an intimidating method whereby locals were evicted to create national parks.
Now Pouchet, a doctoral candidate in Northwestern's anthropology department, is back in Tanzania, this time studying forest conservation in the Amani Nature Reserve, one of the world's 25 global biodiversity hotspots. It's also the poster child for a conservation technique called "participatory forest management," which puts the onus on the villagers to protect the forest. They create their own environmental committees, patrol the areas that border their villages and report illegal activity. In turn, they receive 20 percent of the nature reserve's tourism revenue.
Her research centers on how that policy functions in the real world. By interviewing locals, attending environmental committee meetings and riding along with forest patrols, she hopes to find out exactly what Amani is doing right.

Check out this CNN video on Jessica Pouchet's research and the Amani Nature Reserve in Tanzania.
A Cappella in Asia
The Treblemakers: Beijing, Hong Kong and Seoul
After raising more than $15,000 on Catalyzer, a crowdfunding website administered by Alumni Relations and Development, the Treblemakers a cappella group is headed to Beijing, Hong Kong and Seoul, South Korea, for its spring break tour. To promote cultural exchange, the tour will include educational workshops as well as performances at local high schools and universities. The Treblemakers is an East Asian–interest a cappella group.