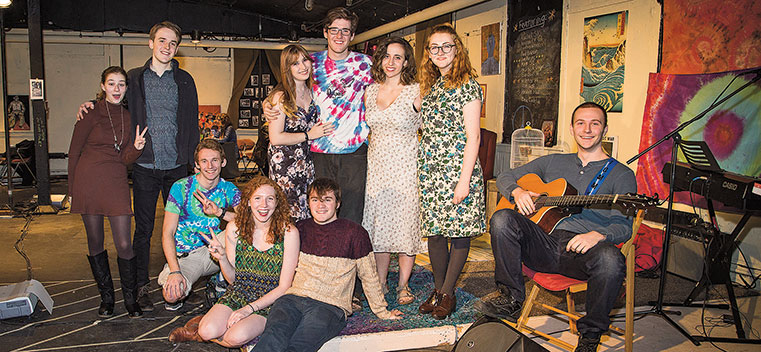 Back row, from left, Melissa Cagan, Thomas Molash, Marin Nass, Elliott Hartman, Sophia Carbonell and Sinclair Willman. Front row, from left, Ryan Miller, Janie Dickerson, Gustavo Berrizbeitia and Tom DeFrancisco. Photo by Michael Goss.
Amazingrace Returns
Story Tools
Share this story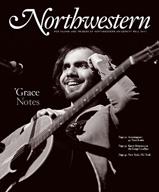 Read more on Amazingrace in our fall 2011 cover story.
Tell us what you think. E-mail comments or questions to the editors at letters@northwestern.edu.
Find Us on Social Media
Students host re-enactment of protest-born coffeehouse.
Students and alumni gathered in Shanley Hall in early December to re-create Amazingrace, a coffeehouse and performance venue that operated in the same space more than 40 years ago (see "Amazingrace," fall 2011).
The re-enactment, co-produced by juniors Janie Dickerson and Gustavo Berrizbeitia, included open mic musical performances, poetry readings and visual art displays, interwoven with actors' accounts of the coffeehouse's history of supporting student activism. Several 'Gracers attended and performed during the two-night event. They remembered the live music venue for its unique vibe and community feel.
"I thought it was wonderful," says Nancy Burke, who took classes at Northwestern in the 1980s and is now an associate professor of clinical psychiatry and behavioral sciences at the Feinberg School of Medicine. "It was lovingly planned, a great reunion with the space. Best of all was the warmth and community feeling among the students who staged it — just like I remember it!"