Mark Sontag: Hockey Doc
Story Tools
Share this story
Jack Corrigan is a junior in the Medill School of Journalism, Media, Integrated Marketing Communications and a devoted Chicago Blackhawks fan.
Tell us what you think. E-mail comments or questions to the editors at letters@northwestern.edu.
Find Us on Social Media
Mark Sontag keeps the San Jose Sharks skating toward the Stanley Cup.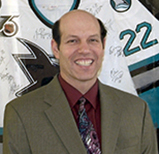 Whether you're a weekend warrior or a world-class professional hockey player, Mark Sontag '81, '83 MD is the guy you need on your team. He runs two Redwood City, Calif., pain treatment centers by day and works as a medical consultant for the San Jose Sharks by night. He's been with the team since it was formed in 1991 and has also served as a medical consultant for the Oakland Raiders, San Francisco 49ers and San Francisco Giants. As the Sharks play the St. Louis Blues in the Western Conference Finals, Sontag spoke with Northwestern magazine about pain, youth hockey and Ferraris.
Northwestern: What's your role with the San Jose Sharks?
Mark Sontag: I'm a physical medicine and rehabilitation doctor, so I take care of the lower back injuries, neck and nerve injuries, stingers, etc. During the home games I'm usually in the locker room.
N: Do you treat other patients besides pro hockey players?
MS: I run two businesses. Remedy Medical Group is a multidisciplinary group of physicians that specialize in sports medicine, spine medicine and pain management. SPARCmed is directed at managing chronic pain, teaching people how to cope with pain and restore function and get them back to work or normal roles in the family.
N: What are some differences between treating hockey players and taking care of your everyday patients?
MS: With elite athletes, particularly the hockey players and the football players, they tend to have high pathology, meaning broken bones, serious ligament injuries in their ankles, knees and elbows. They also tend to have a very low level of pain and high level of function.
You think about how someone gets to the NHL — not only do they have to be highly skilled, but they also have to have a high pain tolerance. Hockey players start playing hockey when they're very young. Say you have an 8-year-old playing with an 11-year-old brother. This 8-year-old falls down on the ice and hits his knee. The older players aren't going to pick him up, cuddle him and run him home to mom. They'll pick him up by the scruff of his neck, and if the knee moves, they'll say 'Keep playing.' If that kid then scores a goal, he doesn't interpret pain in a negative way. The pain didn't interfere with his function. What we see with chronic pain patients is the opposite. They have low pathology, high pain and low function. Most of us fall in the middle.
I think that the fascinating thing about being involved in sports medicine is that you're really able to see the maximum that the human body can experience, what's physically possible, what's the most advanced function in a human being — and that's essentially being an elite hockey player.
N: What kind of extra toll do postseason games take on hockey players' bodies?
MS: It's a grind. They're really just toughing it out at this point. Virtually all the players are playing in pain, and it's just a question of their pain tolerance. Some injuries are such that they physically cannot perform — if you have an unstable knee, you can't play. Being in sports medicine is probably the closest thing you get to being in a battle situation with the military. You're having people come in with injuries, and you have to treat them rapidly.
N: I'm assuming the deeper the team goes in the playoffs, the more pain they have to fight through.
MS: It really is remarkable what these players do. They've been conditioned to perform in pain. They're really finely tuned machines … like Ferraris. They have high maintenance needs, but they're performing at a high level compared to, say, a Chevy Volt, where it's low speed, low performance. They're the cream of the crop.
N: What's something that people might not realize about the work that you do?
MS: The thing that's somewhat unique about being a sports medicine physician is that you have many parties involved. As a physician, your number one obligation is to provide care to the athlete, but you have a highly paid athlete who has a family; you have an agent who wants the player to play but doesn't want them to be permanently injured; you have the coach who has a more short-term outlook — 'We're in the playoffs. I need you to play'; and you have the general manager who's thinking, 'I want him to play, but at the same time I have a three-year contract, and I want him to be available the next two years.' Then finally you have the physician trying to weigh the safety of allowing an injured athlete to perform in a violent environment. You have to do what's best for the athlete. Amazingly, after doing this for 30 years, you really know which injuries are OK to play with and which injuries are not.
N: Do you enjoy your work?
MS: Yes, it's actually very exciting. In a sense, you can have some influence on the outcome of a game, maybe a minor influence, but you are making a decision if a player can play. You're part of the team.
N: Did you play hockey?
MS: I played hockey growing up in St. Louis on ice ponds and while at Northwestern med school, on the frozen field near my dorm.