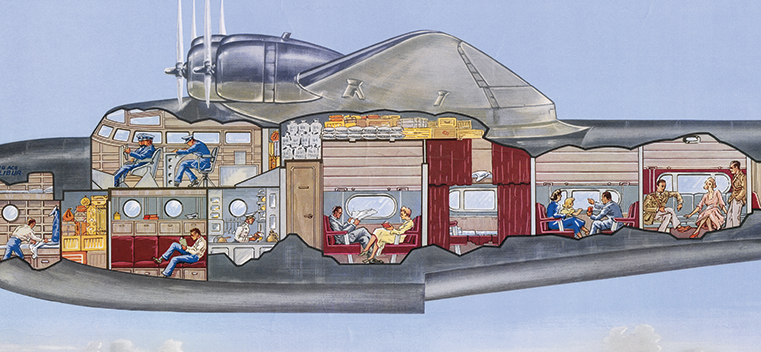 A cross section of the "Flying Ace Excalibur," a Vought-Sikorsky VS-44 Flying Boat, shows the cockpit and cabins for pilots and crew, passengers cabins and storage areas. Flying Ace image courtesy of Pan American World Airways Inc.
Collections: The Flying Aces
Story Tools
Share this story
Tell us what you think. E-mail comments or questions to the editors at letters@northwestern.edu.
Ever wonder about those strange designations we use throughout Northwestern to identify alumni of the various schools of the University? See the complete list.
Find Us on Social Media
Built for passenger comfort, the Vought-Sikorsky VS-44 Flying Boat offered luxurious accommodations that would give today's air travelers high-altitude envy. Operated by American Export Airlines, the 80-foot seaplane offered full-length beds, spacious dressing rooms, a ladies powder room, a smoking lounge and a full galley for its 40-plus passengers.
There were only three VS-44s ever built, and just one of the "Flying Aces" remains — the "Excambian," which is on display at the New England Air Museum in Windsor Locks, Conn.
A rare poster showcasing a cross section of the seaplane, one of the first aircraft built for nonstop trans-Atlantic passenger service, is part of the collection in the Transportation Library. It shows the cockpit and cabins for pilots and crew as well as the spacious passenger cabins and storage areas.
"This is a somewhat unusual poster," says head librarian Roberto Sarmiento. "There aren't many copies, and it's not available to the public." The illustration has become an iconic image for the Transportation Library, which has used it in promotional materials.
Founded in 1958 to support the curricula and research programs of the Transportation Center and the Center for Public Safety, the Transportation Library contains more than 500,000 items and is one of the largest transportation information centers in the world. The library, housed on the fifth floor of University Library, is planning a special 2016 exhibit of items contributed by donors.