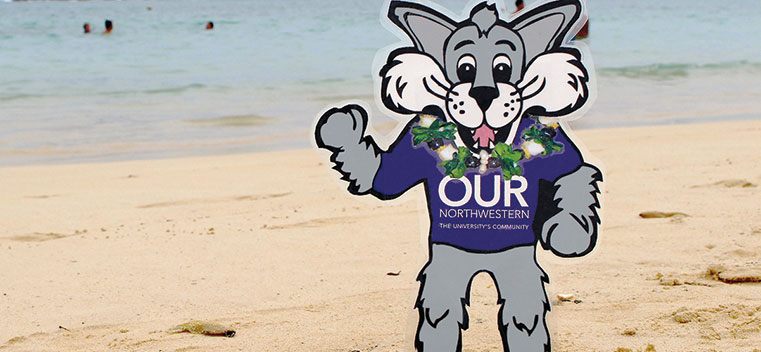 Flat Willie dug his paws into the sand in ­Hawaii with Crissy Terawaki Kawamoto '97.
A Well-Traveled 'Cat
Story Tools
Share this story
Tell us what you think. E-mail comments or questions to the editors at letters@northwestern.edu.
Ever wonder about those strange designations we use throughout Northwestern to identify alumni of the various schools of the University? See the complete list.
Find Us on Social Media
Alumni weigh in on favorite Flat Willie photos.
Flat Willie might have more frequent flier miles than any other member of the Northwestern community.
The miniature, card-stock version of Northwestern's beloved mascot has traveled everywhere from Maine to Morocco since he arrived in alumni mailboxes last July. More than 400 people have posted their photos of Flat Willie on Our Northwestern, the University's online community, and on social media using the hashtag #FlatWillie.
Alumni also took to social media in the fall to vote for their favorite Flat Willie photo. Finalists included shots of Flat Willie relaxing on the beach in Hawaii, admiring Mount Rushmore and hiking to Machu Picchu, but the winner was an underwater snapshot of Flat Willie scuba diving in Curaçao with Alan Blaustein '74, '83 MD.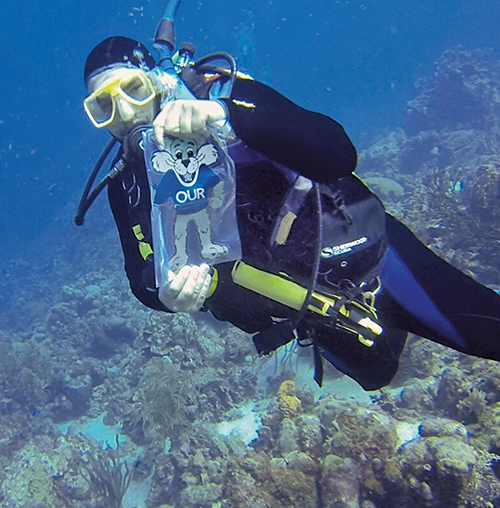 Alumni chose a photo of Alan Blaustein scuba diving with Flat Willie in Curaçao as their favorite Flat Willie photo.
Blaustein credits his wife, Anna, with getting the perfect shot. "She had the patience to find the right place out of the current and with the right light to take the photos," he says.
Even though the photo contest has ended, Flat Willie's adventures have just begun. Get the latest updates on his travels, post your own photos, print your own Flat Willie and download other additions to his wardrobe at our.northwestern.edu/groups/flatwillie.