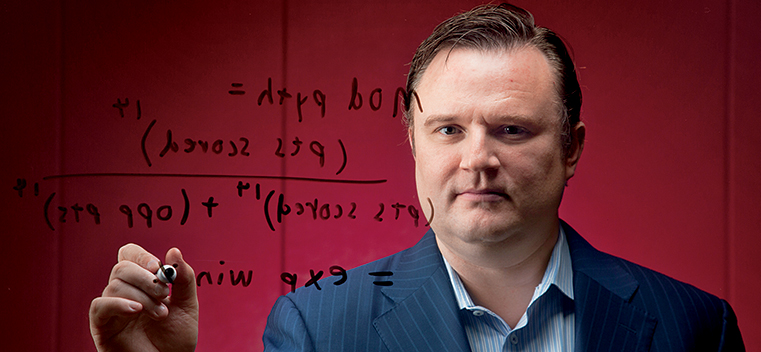 Daryl Morey jots down his basketball-modified Pythagorean theorem at the Toyota Center. Photo by Thomas Shea.
Daryl Morey by the Numbers
Story Tools
Share this story
• 7
— Seasons as Houston Rockets general manager with a record of 272-204 through the 2012–13 season.
• 3 — Playoff appearances — 2008, 2009 and 2013.
• 37 — Trades. No NBA general manager has made more in-season deadline trades in the last seven years than Morey's 11 deals, involving 43 players and 10 draft picks, according to Basketball Reference. He's made a deal at the deadline in each of his seven seasons with the Rockets.
• 45  — Free agent signings, according to Basketball Reference.
• 2 — Jeremy Lin signings, once in December 2011 and again in July 2012, after the "Linsanity" outbreak with the Knicks.
• $64.5 million — The Rockets' estimated payroll for the 2013–14 season.
• $20.5 million — Salary for superstar free-agent acquisition Dwight Howard, the sixth-highest paid player in the NBA.