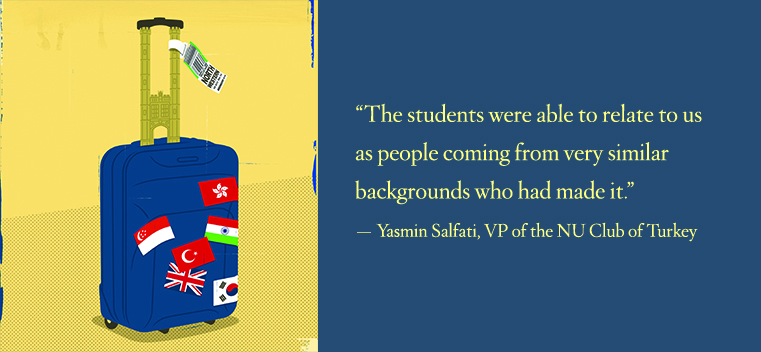 Illustration by Francesco Bongiorni.
Global Send-Offs
Story Tools
Share this story
Find out more about the Northwestern Alumni Association's international clubs.
Tell us what you think. E-mail comments or questions to the editors at letters@northwestern.edu.
Ever wonder about those strange designations we use throughout Northwestern to identify alumni of the various schools of the University? See the complete list.
Leaving home to attend college can be daunting for any student. But when you go to an unfamiliar country half a world away from family and friends, the unease can reach a whole new level. Yasmin Salfati (WCAS07) remembers those jitters well. At age 17 she left Istanbul to start her first year at Northwestern. Unlike many Turkish students coming to the States, she did not have a U.S. educational background to draw on when she arrived.
"I was worried about making friends, and I was worried about those big textbooks in English," recalls the economics major. "The U.S. educational system wasn't as familiar to me as it was to other students."
In August, Salfati — vice president of the newly formed NU Club of Turkey — and fellow club members helped the newest class of Turkish students calm their first-year fears by hosting an inaugural student send-off party in Istanbul. It was one of six such send-offs hosted last summer by Northwestern Alumni Association international clubs or alumni and student volunteers, in conjunction with the Northwestern International Office's International Peer Advisor Program. Other parties took place in Mumbai, India; Seoul, South Korea; Singapore; Hong Kong; and London. In all, more than 200 students, alumni and parents attended the events.
Nineteen incoming freshman attended in Turkey, including 11 who came with their parents. They were greeted with a video from the International Office and motivational speeches from club officers. And perhaps most important, a group of 20 alumni and current Northwestern students was on hand to answer questions and alleviate concerns.
"The students were able to relate to us as people coming from very similar backgrounds who had made it," says Salfati. "The atmosphere and dialogue were so friendly that I think it gave them the courage to ask questions they may not ask elsewhere."
The NU Club of Korea's inaugural send-off, which coincided with President Morton Schapiro's visit to Seoul last July, attracted more than 85 incoming students and their parents. The club was able to build on the strong tradition of unofficial send-offs that had been organized by the student group Koreans at Northwestern University every summer since 2002.
"We feel these events provide an initial sense of belonging to a community," says NU Club of Korea vice president for communications Julia Hye-kyung Shin (C09), who attended KANU's send-off when she was an incoming student in 2005. "While a warm welcome from the school is important during orientation, we can provide a different kind of welcome. Students and their parents can get a sense of security knowing that they will always have someone they can go to when they are far from home."
Student questions in Korea and Turkey ran the gamut, from the rigors of the unfamiliar quarter system to the attributes of Evanston. But the new students weren't the only ones with pressing questions. Salfati noted that the send-off did just as much to calm the nerves of new Northwestern parents.
"Looking at it from the perspective of my parents, it's not easy to send your 17-year-old kid to the other side of the world," she says. "So I think coming here and seeing the club board was helpful. I think we provided them with a sense of reassurance."
So what was the biggest piece of advice the club leaders attempted to impart to these new Wildcats?
"The advice was to be really open minded and try to observe, listen and learn by doing," says Doruk Borekci (McC97), president of the NU Club of Turkey. "They should explore every avenue at the University and learn from all the different cultures they will be exposed to."
Adds Shin: "We told them to challenge themselves in choosing majors and classes and not to shy away from classes that require a lot of discussion and writing. Trying new things can help you find out what you really want to do and broaden your perspective on life."