Alumni Updates
Story Tools
Share this story
Tell us what you think. E-mail comments or questions to the editors at letters@northwestern.edu.
Ever wonder about those strange designations we use throughout Northwestern to identify alumni of the various schools of the University? See the complete list.
Hannah Chung (McC12)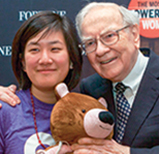 Hannah Chung ("All-Star Seniors," summer 2012) won a pitch competition at Fortune's Most Powerful Women Summit in October. Chung won the Perfect Pitch competition for Jerry the Bear, an interactive robotic toy for children with type 1 diabetes that she developed with Aaron Horowitz (McC12). Chung and Horowitz co-founded Spoutel, a startup that makes interactive games for children with chronic illnesses. After studying how children learn through robotics with Jerry the Bear, they hope to create products for children with autism, asthma and obesity. Chung lives in Providence.
Johnnetta Betsch Cole (G59, 67, H92)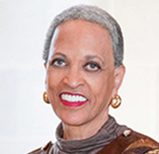 Johnnetta Betsch Cole received the 2013 Alumnae Award from the Alumnae of Northwestern University in October. Cole ("All the Presidents Men and Women," fall 2007) is the director of the Smithsonian National Museum of African Art in Washington, D.C. She served as president of both of the nation's historically black colleges for women: Bennett College in Greensboro, N.C., and Spelman College in Atlanta.
Nancy Copeland Firfer (SESP67)
Glenview, Ill., paid tribute to former village president Nancy Copeland Firfer with an honorary street naming. A decade ago, Firfer ("The Lady in the Glen," winter 2003) oversaw the redevelopment of the shuttered Glenview Naval Air Station into the Glen, a 1,121-acre community of residences, shops and open space. Firfer spent 23 years serving Glenview as a school board member and village trustee and president. She and her husband, Rick Firfer (WCAS64, L71), live in the village.
Clifford Garstang (WCAS75)
Clifford Garstang ("Changing Course," spring 2007), received the Library of Virginia's 2013 Emyl Jenkins Sexton Literary Award for Fiction for his book What the Zhang Boys Know (Press 53, 2012). The 12 interconnected stories, set in Washington, D.C., tell the tale of an immigrant seeking a wife and mother for his sons. As a lawyer turned writer, Garstang has a background in international affairs that equipped him with a strong understanding of different cultures. Garstang, who lives in Staunton, Va., is a member of the Northwestern Alumni Association Board.
Alex Nee (C13)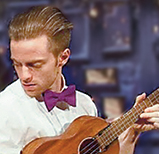 Alex Nee ("He's No American Idiot," winter 2012) completed his classes during the summer after performing with the international tour of the Broadway musical American Idiot. Now he's landed a role in the national touring company of Once, a musical based on the Academy Award–winning 2007 film of the same name. Nee plays the bass, ukulele, mandolin, guitar and cajon in the musical. Performances run through October. (Read more on the "Life in Purple" blog.)
Gita Pullapilly (GJ01)
Gita Pullapilly won the Calvin Klein "Live the Dream" grant for a female director at the Gotham Independent Awards by the Independent Film Project in New York City in December. Pullapilly ("The Inside Story," fall 2013) received the award for her first feature film, Beneath the Harvest Sky, which she co-directed with her husband, Aron Gaudet. Pullapilly and Gaudet were featured in Variety's "10 Directors to Watch" for 2013. They're now working on a book adaptation and a drama based on a true story set in 1980s Chicago.