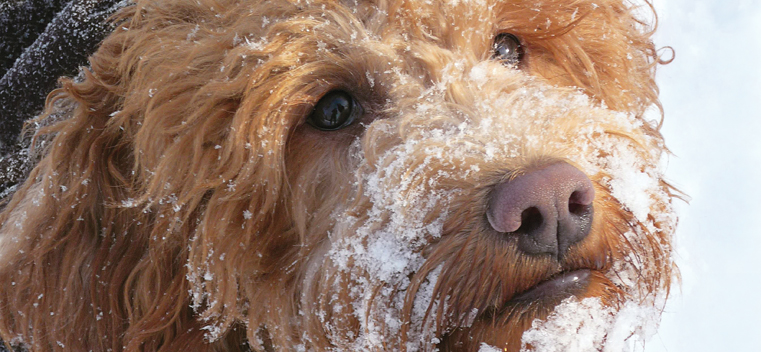 Peanut, a goldendoodle from Brooklyn, N.Y., where she lives with Jim Scheele (WCAS00) and Katie Bedard Scheele (BSM01), won our pet photo contest.
Our Finest Furry and Feathered Friends
Story Tools
Share this story
Goldendoodle takes first place in pet photo contest.
Northwestern magazine has indeed gone to the dogs — and cats, not to mention a host of other beloved pets, some soft and cuddly, others scaly and feathery.
We received more than 200 photo submissions for our pet photo contest — from a labradoodle to a cock-a-doodle (well, actually a chicken, not a rooster), from a seal point mitted Ragdoll kitten to an African clawed frog, from a chinchilla to a dappled parakeet.
Northwestern alumni and staff are devoted to their pets. Many folks have rescued pooches, cats and even bunnies. And quite a few pets have joined the workforce, serving as therapy dogs and companions to children, seniors and the disabled.
So who won the pet photo contest? Peanut, a goldendoodle from Brooklyn who is blessed to have two Northwestern alumni parents.
Take a gander at our other finalists.