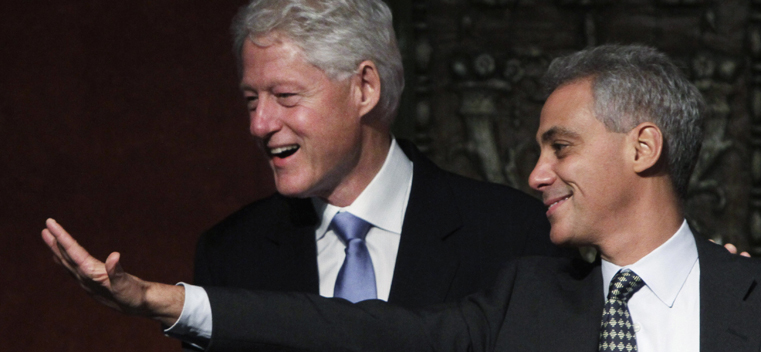 Former President Bill Clinton appears with Rahm Emanuel at a Chicago rally during the mayoral campaign in 2011. AP Photo/M. Spencer Green, file.
Life Lessons from Professor Rahm
Story Tools
Share this story
It's spring quarter in 2000, last class of the week: The Presidency and the Press taught by Rahm Emanuel, former Clinton White House aide. The campus is utterly deserted by late Friday afternoon. Cub Barrett (C01, GJ04) remembers well climbing the old marble stairs to the third floor in Harris Hall to a tiny classroom that fit maybe 25 people. It "felt like we were going up to this secret room, apart from the rest of the University," he says.
The official class goal was "to explore the deterioration of relations between the press and presidency, its cause and the change in style and tactics." But the class was really "more of an education about the presidency itself," says Barrett, who went on to work as a senior manager for public relations at Time Inc. and is now manager of program communications for the Foundation for AIDS Research (amFAR) in New York City.
It was also about "the way Washington works" says fellow student John Gans Jr. (C00) and "how to think about the art of political communication in an era when communication was changing so much." Gans has since worked in public relations and politics, including a stint as deputy national political director for then–Sen. Hillary Rodham Clinton's HILLPAC. Today Gans is finishing a PhD in international relations at Johns Hopkins and contributes to the Atlantic magazine's website.
 At that time Emanuel had never held elective office himself — he was two years away from joining Congress — but the diverse group of communications, political science and economics students had read behind-the-scenes Clinton White House articles and knew him as one of the players.
Each week the small group gathered around a visiting lecturer, such as former Clinton White House press secretary Mike McCurry or New Yorker writer Jeffrey Toobin. Afterward a roundtable with Emanuel went deep. "Rahm was never content with one answer. He's the kind who asks two or three follow-ups and pushes you to make decisions about what you think," says Gans.
The students pored over weekly assigned readings and submitted three questions, says Barrett. "There was this unspoken contest among the students to see who could write the best question. And it was a great day when Rahm picked your question."
Emanuel also talked about crisis communication, framing a message and how to respond to reporters, using the Monica Lewinsky affair as a touchstone, says Barrett. The class compared the Lewinsky incident to other scandals, like the Iran-Contra affair and Watergate, and looked at how press strategies changed over time.
"One thing I'll say for Rahm, he did not spare his comments about how the Clintons responded to things," says Barrett. "He didn't whitewash what had happened or some mistakes the White House might have made."
Using the Lewinsky story, students learned "how chance events, intentions, players and actors all sort of combine to make history happen," says Gans.
The class humanized politics for Barrett. Typically when you read about something like the Lewinsky scandal, he says, "you don't get to interact with the players. So you don't hear the intonations in their voices. … Rahm and the people who came to speak gave a sense that everybody in the White House is human, including the press corps," he says. And Emanuel "always impressed upon us that relationships are the most important things you can have."
Later in his career, says Barrett, "when other colleagues have wanted to either whitewash something or not be 100 percent truthful about something, I've always thought back to that class … and how it was important to keep relationships and be honest with people. Something that came up over and over again was always that the cover-up was worse than the crime. That was something that every speaker said. It was something that Rahm always said."
Emanuel "was incredibly patient and giving and committed to making the class a good and productive experience for students," Gans recalls, and it paid off.
"I think part of politics and part of getting involved in government is being comfortable with people who are in power and being used to talking to people like that," he says. "I never got the feeling that Rahm looked down on us. He always sort of flattered us with his attention and patience. Those are the little confidence-boosting things that you get that you don't even know you're getting, and you don't even know that they'll be important to you." — Cate Plys