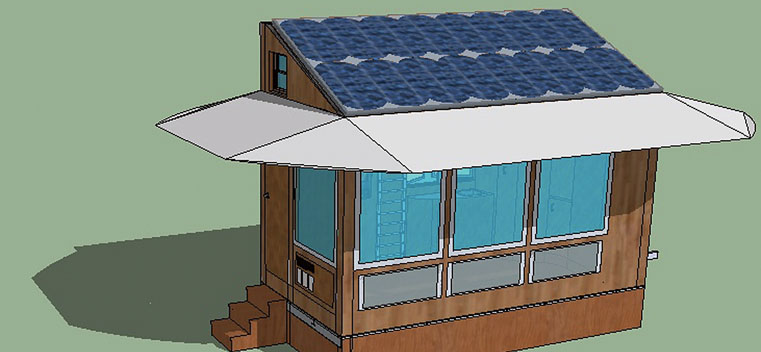 The design sketch for "the Casita," a fully functional, completely sustainable, off-grid tiny house
Tiny House Builders Think Big
Story Tools
Share this story
Imagine an entire house that is about the size of a typical residence hall single. That's the goal for a group of Northwestern students who hope to build a fully functional, completely sustainable, off-grid house that they say will occupy less than 130 square feet, roughly one-tenth the size of an average multilevel home. The students plan to construct the house if they are able to get the necessary permits from the city of Evanston and permission from the University.
Senior engineering major William Fan and five classmates took on the tiny house project as an assignment for the two-course Interdisciplinary Design Projects series after Fan met with Jay Shafer, a leading tiny house advocate and proprietor of Tumbleweed Tiny House Co. Fan had submitted the tiny house project idea for the class, and when the course ended, the team decided to continue the construction, improving on Tumbleweed's model with their own design by combining sustainability and comfort.
"I had no idea what a tiny house was. I thought it was a joke," said manufacturing and design engineering major Kaycee Overcash, one of three original class members on the project's current eight-person leadership team. "Now I could see living in a tiny house. I've really learned to see space as a resource."
The plans for the single-person dwelling, nicknamed "the Casita," include high-tech solar panels to capture and store electricity and a system to filter and store rainwater for daily use. Last fall the team, with support from staff of the Segal Design Institute, developed the layout and design plans, outlining the details for everything from the composting toilet to the small wood-burning stove.
The project has received grant support from the Segal Design Institute's Don Norman Fund for Design and the Dow Sustainability Innovation Student Challenge.