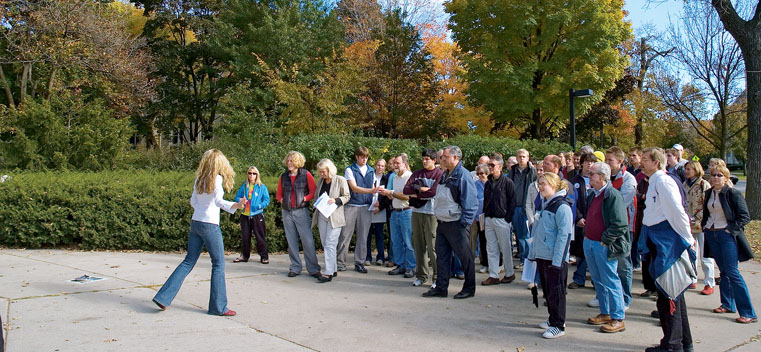 Tales from the Tours
Story Tools
Share this story
It's spring at Northwestern, and that means it's high season for campus tours — more than 42,000 people visited campus in all of 2010. We asked a few of Northwestern's walking encyclopedias for some of their funniest and strangest moments.   
Larkin Brown (C10): I was in the home stretch of a rather typical tour. I had just finished my favorite joke as I rounded the Arch when a girl buried in the middle of the group piped up, "Are there a lot of pregnant girls here?" My usually smooth backward-walk faltered. Usually I try to gauge the student or parent asking the question and attempt to address their underlying concern with my answer. But this time I was at a loss. I stammered about Northwestern producing career-minded women who tend to graduate before beginning a family. It took me the rest of the tour to recover.
Elizabeth Clark (WCAS11): I had just begun the tour when a prospective student raised his hand and said "What's the Northwestern fight song?" I asked if he wanted me to sing it, and he said yes. I started clapping and sang "Go U Northwestern" as we walked by 1835 Hinman. When I finished, he said he had asked his Georgetown University tour guide to sing that school's song, and the tour guide didn't know it. He had decided knowing the fight song was a good indicator of school spirit.
Kacey Albertine (WCAS10): One mother came up to me with her son after the tour had finished. She asked me if her son would find a girlfriend at Northwestern. I looked at him and said, "Yeah, a lot of people date here!" He then clarified what his mother was saying: "Well, like, are the girls cute?" I sort of stepped back and said, "Well, I'm a girl at Northwestern … " to which he responded, "Yeah, and you're cute."