They're No Dummies
Story Tools
Share this story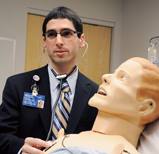 Brad, a patient in his mid-40s, is in the ER complaining of chest pain and numbness in his left arm. After checking Brad's EKG, the doctor determines that he's likely having a heart attack. Eyes closed, the patient complains about the pain. "Am I going to die?" he asks.
Suddenly his eyes roll back. He has no pulse. In a matter of seconds, a team of doctors, nurses and technicians move efficiently around the room, performing CPR and defibrillation and intubating the patient. Within minutes Brad's vital signs improve.
Fortunately Brad is only a mannequin — a breathing, blinking, talking simulator in the Feinberg School of Medicine's Simulation Technology and Immersive Learning Center.
This scenario, a simulated ventricular tachycardia, is a typical case for a fourth-year medical student, said David Salzman (FSM05, GFSM09), an emergency medicine physician and a simulation fellow with the center. "A medical student would never be allowed to run a resuscitation in real life because people's lives are at risk," he said. "In here, it's a safe learning environment. If they make a mistake, we can hit the reset button, and they can learn from that experience."
The high-fidelity simulators are voiced and controlled by staffers in a mirrored control room. Scenarios include childbirth, newborn resuscitation or whole-body trauma — events with multiple system failure. Instructors record each simulation session, allowing for additional feedback. Students and practitioners can also practice skills such as airway placement.
"The fundamental mission of the center is to have people reliably do the right thing," said director John Vozenilek (GFSM00), associate professor of emergency medicine, medical education and health care studies.
The new center has paid immediate dividends. One assessment by Feinberg professors Diane Wayne (FSM89, 91) and Jeffrey Barsuk (FSM99, GFSM02) found that central line–related blood infection rates have dropped to near zero due to virtual training, resulting in lives saved and a cost savings of an estimated $700,000 to Northwestern Memorial Hospital.