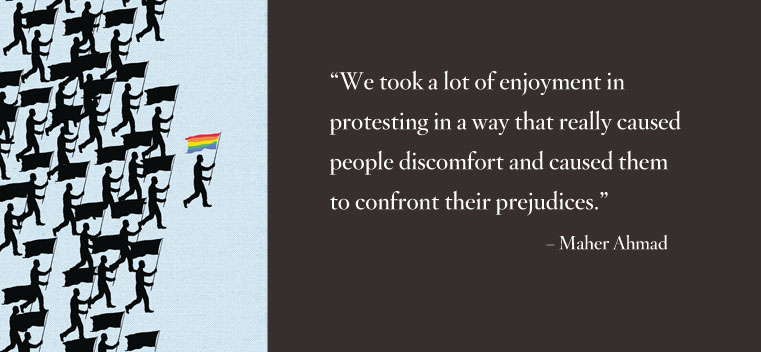 Illustration by Dan Page
Front Man for Gay Rights
Story Tools
Share this story
If you're interested in contributing historical documents about the early days of the gay, lesbian, bisexual and transgendered liberation movement at Northwestern, please contact University Archives at archives@northwestern.edu.
Find Us on Social Media
Even before he had reached adolescence, Maher Ahmad knew he was different.
"I was attracted to persons of the same sex," he said, "and I knew that this wasn't somehow 'right' in the larger world."
Growing up in northeast Pennsylvania in the 1950s and '60s, Ahmad quietly educated himself about what being gay meant, "and a lot of what I read was just horrible. It's actually difficult nowadays to envision just how loathsome and evil the perspective was back then.
"I felt really sorry for all the people of my tribe. I was motivated by feelings of empathy toward them and a lot of anger at the narrow-mindedness of society generally."
Ahmad (C71, GC74) turned that empathy and resentment into a movement at Northwestern, founding the Northwestern Gay Liberation Front in 1970 with classmate Bill Dry (WCAS69), who died in 1986. Ahmad, now a Hollywood production designer, returned to Northwestern in October to talk with students at a LGBT (Lesbian, Gay, Bisexual and Transgender) Resource Center event and donate his NGLF and theatrical papers (at least those that survived a flood at his childhood home in Forty Fort, Pa.) to University Archives.
Ahmad and Dry launched the gay rights organization after observing the University of Chicago's advocacy group, one of just a few in the country at the time. The founders wanted to bring a similar organization to Northwestern. To their surprise, when Ahmad and Dry petitioned the University for official recognition, the administration welcomed the group. When the NGLF requested funding from the Associated Student Government, the body met the fledgling organization's full funding request.
The NGLF members started speaking to on- and off-campus groups, distributing leaflets and demonstrating. Occasionally Dry would engage in "gender screwing," dressing in drag to provoke questions about gender roles.
"That was part of this whole in-your-face thing," Ahmad said during his talk. "We took a lot of enjoyment in protesting in a way that really caused people discomfort and caused them to confront their prejudices."
One of the NGLF's first big events was a concert-dance featuring the Siegel-Schwall Band, a popular 1960s blues act. Intended as a gay dance, the $1 Patten Gymnasium show drew a huge crowd, gay and straight, and filled the organization's coffers. 
Ahmad and his fellow front members also forced changes at "the biggest, most popular gay bar" in Chicago, the Normandy, on Rush Street, with a series of boycotts in spring 1970. The protestors demanded that the bar obtain a dance license, fix the air conditioning and end discrimination against African American patrons. At first the proprietors scoffed, but after two weekends of picketing, they came to Kresge Centennial Hall to meet with the protestors. "There we were, a group of scruffy college kids negotiating with a couple of big guys with silk suits and pinky rings," Ahmad recalled.
Ahmad, the son of Palestinian immigrants, says he was an activist-in-waiting as an undergrad. Vince McCoy (BSM75) met Ahmad during his freshman year. "As a bright-eyed freshman, I was like, 'Wow, this guy has really got it together.' He was an upperclassmen and totally out," McCoy remembers, "and I was kind of in awe of him, really. He's the reason I got involved with the movement."
As a junior, McCoy succeeded Ahmad as president of the NGLF. A technical support consultant at University Library who celebrated his 35th year as a University employee last spring, McCoy later urged the Northwestern administration to adopt domestic partner benefits for same-sex couples. (Wayne MacPherson [C76], McCoy's partner of more than 25 years, also served as NGLF president as a student.)
Rainbow Alliance, the LGBT student group on campus today, is a direct descendent of the group that Ahmad co-founded. Sophomore Dan Tham said it was inspiring to hear from the gay rights pioneer. "He paved the way for all LGBT students to be visible on campus today," says Tham, a journalism major from Salt Lake City.
Ahmad, who admits that he's no longer on the front lines of the movement, continues to speak about gay rights issues. His message today is the same as it was more than 40 years ago. He says one of the most powerful actions is for gay and lesbian individuals to come out, especially to family.