Sister Act
Story Tools
Share this story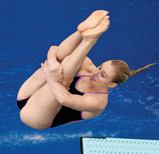 Once a week divers Felicitas and Cosima Lenz climb into the car and drive to Milwaukee to practice on a 10-meter platform, their specialty. It's a small price to pay, the sisters said, to compete for Northwestern coach Alik Sarkisian, a 13-time Armenian national champion and former Soviet Union and Armenian national team coach.
Sarkisian came to Northwestern, his first college coaching job, in 2006 and quickly learned the recruiting ropes. Felicitas, a sophomore, is one of the most highly touted divers to ever compete for Northwestern, earning three top-10 finishes at the Speedo Junior National Diving Championship in 2009.
Born in Tübingen, Germany, before moving to California with her family, Felicitas returned to her homeland last summer and made the finals in a pair of events at the Senior German Nationals. She might have even earned a chance to compete with the German national team.
At Northwestern the sophomore is the Wildcats' top returning diver. She twice earned Big Ten Diver of the Week honors in 2009 and carried Northwestern's top scores for the 2009–10 season in all three diving events. She scored points in all three events at the Big Ten championships and finished fifth on the platform at the NCAA Zone C meet.
Now, with Felicitas and her four-time high school All-American little sister, Cosima, onboard, the Wildcats are ready for a successful spring season (especially after a winter-break training trip to Hawaii). During the fall season the Lenz sisters took first and second for Northwestern in both springboard events at the University's six-team TYR Invitational.
They expect more big things in the Big Ten this spring.