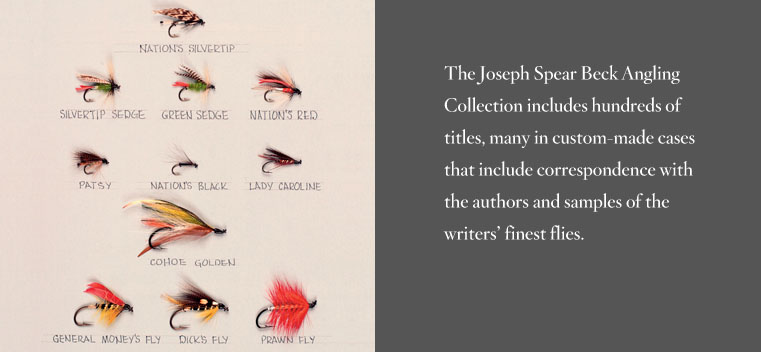 Flies tied by Martin H. Tolley and collected by Joseph Spear Beck to illustrate The Western Angler: An Account of Pacific Salmon and Western Trout by Roderick Haig-Brown. It is one of several trays of flies housed in a custom-made portfolio.
Collections: Reel Appeal
Story Tools
Share this story
Accomplished angler and sophisticated book collector Joseph Spear Beck (WCAS29) shared his love for fishing with the patrons of the Charles Deering McCormick Library of Special Collections. Held in the wood-paneled Joseph Spear Beck Angling Collection Room (dedicated in 1984), the collection that he donated includes hundreds of English, Scottish and American books and pamphlets, mostly on fly-fishing for trout and salmon. Many titles are in custom-made cases that include correspondence with the authors and samples of the writers' finest flies. The Beck collection also includes a set of primitive fishhooks from early North American Indians and a late 19th-century Abercrombie and Fitch fishing pole. In recent years Special Collections curator Scott Krafft has added to the collection through an endowment established by Beck. A longtime friend of University Library, Beck worked in the marine insurance industry and lived in Evanston until he retired to finer fishing in Florida. He died in April 1987.