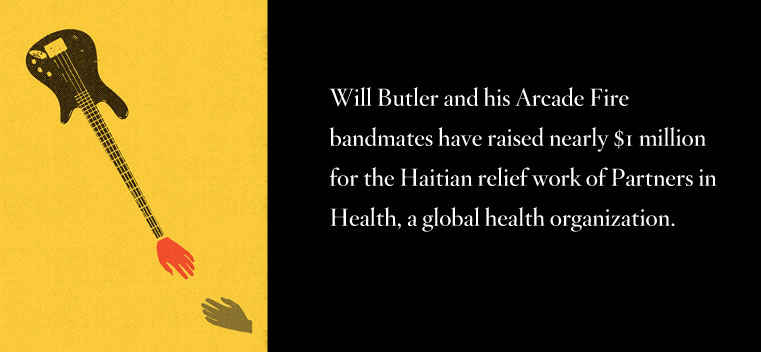 Illustration by Dan Page
On Fire for Civic Engagement
Story Tools
Share this story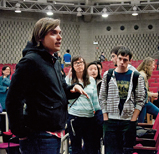 As Will Butler (WCAS05) stepped to the lectern at Leverone Auditorium last fall, he couldn't help but flash back to the not-too-distant past. The Grant Park music festival Lollapalooza this was not. But for the member of the Grammy Award–winning indie rock sensation Arcade Fire, the surroundings were quite familiar.
"I don't quite remember what class I had here," Butler deadpanned between sips of tea. "I must have taken it pass-fail."
The soft-spoken multi-instrumentalist was the keynote speaker at Civically Engaged Young Alumni Week, which featured 25 young alumni speakers who encouraged students to pursue meaningful lives and careers. The three-day conference in early November, which included seven alumni speaker panels that drew a total of more than 500 students, was hosted by the Center for Civic Engagement, One Book One Northwestern, the Northwestern Alumni Association, University Career Services and the Global Health Studies program.
Butler — sporting a rumpled plaid shirt and perfectly unkempt hair and exhibiting an air of understated irreverence — was clearly the star attraction. The poetry and Slavic studies graduate (he twice quoted Dostoyevsky during the presentation) recounted trying to finish his degree while Arcade Fire's popularity was exploding.
"I remember asking teachers 'Can I skip class so I can go on Conan O'Brien?'" he recalled, to the audience's delight.
But music was only part of the story. Butler also spoke at length about Arcade Fire's support for Haiti — an effort inspired by the musician's getting to know the Haitian family of bandmate (and Butler's sister-in-law) Regine Chassagne. The Montreal-based group has raised nearly $1 million to support the Haitian relief work of Partners in Health, a global health organization founded by physician Paul Farmer. Coincidentally, Mountains Beyond Mountains, a book about Farmer's public health career, is this year's One Book One Northwestern selection.
"We've just done a lot of really easy things that have made a disproportionate impact for how easy they are," said Butler. He noted that Arcade Fire gave $1 to Haiti for each ticket sold on tour, raising more than $500,000.
But he also cautioned students that they must make connections with the communities they wish to help. "If you don't take the first step of identifying with the people you're helping, you can do more harm than good," he said.
The audience of about 200 students included both campus activists and music aficionados, though the line between the two was decidedly blurred.
"I know a ton of people who are vaguely involved with organizations for civic engagement or social justice but are here only because of the band," said junior psychology major Sid Singh, who put off studying for a midterm to see Butler in person. "This is a really great opportunity to help students, especially younger students like freshmen and sophomores, explore social justice."
Other speakers during the week included Michael Blake (J04), associate director of the White House Office of Public Engagement; Music Unites founder Michelle Edgar (BSM05); Roel Vivit (SESP98, GSESP05), the Golden Apple Award winner who founded Polaris Charter Academy in Chicago; Barrel of Monkeys artistic director Luke Hatton (C00); and Dianna English (SESP04), a U.S. State Department program officer in Sudan.
"By showing how our young alums have moved from the campus to the world, we are modeling different paths to leadership and linking our students with our alums to help with that journey," said CCE director Dan Lewis, professor of human development and social policy.