Club News
Story Tools
Share this story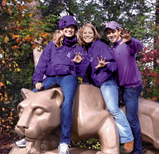 ON THE BUS
On Nov. 6 two buses arrived in State College, Pa., after traversing nearly 200 miles of highway. One came from the southeast, the other from the south, but both carried a crew of purple-clad alumni. The NU Clubs of Philadelphia and Washington, D.C., both organized road trips to cheer on the football team at Penn State — and though the game didn't end well for the Wildcats, the clubs are chalking the experience up as a win. The Washington, D.C., club packed 40 people on its bus, which dropped off the group right at the Northwestern Alumni Association's tailgate at the Nittany Lion Inn. Club board member Michael Bekesha (WCAS04) said the trip helped foster a "greater sense of community" among the alumni club travelers, who graduated between 1956 and 2010. About 35 more alumni and friends boarded a bus that left Philadelphia at 8 a.m. Club president Qamara Edwards (C02) said their group also had a "great mix," from new graduates to alumni from the 1960s. "I think it provided a great bonding experience," Edwards said. "It gave alums an opportunity to meet and chat with folks that they normally wouldn't have a chance to meet." Another sign the trips were a success? Both clubs are discussing a possible trip to West Point, N.Y., where the Wildcats will play against Army Sept. 17.
REUNITING THE BAND
The Northwestern University Marching and Band Alumni (NUMBALUMS) also made a football foray
into enemy territory. A group of about 30 people attended the club's "official unofficial" road trip to Indiana University on Oct. 30 and, aside from a little good-natured heckling from Hoosier fans, they escaped Bloomington unscathed. " 'You look fat in purple' was definitely a winner and something we repeated for the rest of the day," club vice president of publicity Brittany Petersen (J09) said of the razzing. It's no accident that the NUMBALUMS's trip coincided with the Northwestern University Marching Band's annual away game. After the current band returned to the stands after pregame and halftime performances, the club members were there to enthusiastically greet them. The NUMBALUMS, who reunite annually for the Homecoming game, have been looking for additional ways to foster bonding among a membership base that spans more than half a century. Petersen was encouraged by the response to the road trip. "We all left saying, 'Why haven't we done this before?' " she said.