---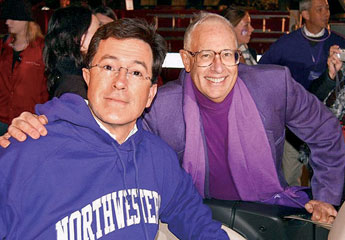 Homecoming parade grand marshal Stephen Colbert and Northwestern President Henry S. Bienen. Photo by Rishi Chitkara (WCAS07)
Next to purple apparel, the most important item needed for the Northwestern Alumni Association's 2006 Fall Reunions and Homecoming weekend was a camera.
There were plenty of photo opportunities across the Evanston campus as more than 3,066 alumni and family members from the classes of 1961, 1966, 1971, 1976, 1981, 1986, 1991, 1996 and 2001 reconnected with classmates and celebrated their favorite memories at class parties and Homecoming events.
All along the Sheridan Road Homecoming parade route, camera phones clicked while spectators strained to get a glimpse of Homecoming parade grand marshal Stephen Colbert (C87), the wildly popular star of Comedy Central's The Colbert Report (see "A Funny Man of Good Report," winter 2005), as his car passed by.
Also on campus, alumni reacquainted themselves with their alma mater on tours and at NAA educational events. They also got into the Homecoming spirit at the Meadow Madness tent party on Deering Meadow and the Homecoming pep rally at Cahn Auditorium.
The picture was not so pretty at Ryan Field. The Wildcats built a 38-3 third-quarter lead, to the frenzied fans' delight, but eventually lost 41-38 to the Michigan State Spartans.
But images from the class parties in Evanston and Chicago showed the real reason for the celebration — the happy expressions of longtime friends embracing their shared memories and recalling with gratitude how their Northwestern experiences led them to where they are today. Reunion classes demonstrated that gratitude by raising a combined total of $11,933,900.