---
Club leaders from around the country were among the 150 attendees at the Northwestern Alumni Association's Leadership Symposium Oct. 19–20, 2006, on the Evanston campus. During the symposium the NAA held its annual meeting, where Alan Wolfson (McC80) succeeded Rich Dean (EB69) as NAA president. The NU Club of Washington, D.C., received 2006 Club of the Year honors, and the NU Clubs of Atlanta, Greater New York, Virginia and Los Angeles were recognized for best practices in governance, communication, membership and programming, respectively.
Internationally, the NU Club of London hosted a luncheon at The Atlas, a gastropub in London's Earls Court district, in November 2006. NU Club of Japan president Teruaki Aoki (GMcC70) welcomed 40 alumni and family with a special toast at the club's annual Wildcat Thanksgiving in Tokyo dinner Nov. 26 at Fujimamas in the city's Omotesando district. Japanese alumni especially enjoyed an American turkey dinner, which brought back fond memories of their days at Northwestern. In December members joined alumni from Brown, Harvard, Stanford and Yale universities and the University of California, Los Angeles, at a mixer at the Baron bar and restaurant.
The NU Club of Chicago is looking for alumni to participate in the Chicago Public Schools' Alumni for Public Schools community service project in the spring. Club members will volunteer at Lincoln Park High School for events that motivate students to attend college and pursue professional careers. For more information, contact Cody Sweet (C63, G72) at drcodysweet@aol.com.
As part of Dance Marathon weekend March 2–4, several alumni clubs, including the NU Clubs of Chicago and Philadelphia, are hosting Mini Dance Marathon events to raise money for Citizens United for Research in Epilepsy and the Evanston Community Foundation. To view a live webcast of Dance Marathon activities at the Norris University Center or to donate online, please visit www.nudm.org.
The club calendar for the NU Club of Coachella Valley included political science professor William Reno's Feb. 8 visit and presentation on strategies to address African warfare. In March, Norman Mark (C61) and his wife, Grace, welcome alumni to their Palm Desert, Calif., home, and on April 11 the members will attend a production of The Best Things in Life Are Free at the Palm Springs Art Museum's Annenberg Theater.
Members of the NU Club of Philadelphia will enjoy a Weekend with Royalty March 10–11, beginning with the Saturday evening cocktail reception, followed by a performance of the musical Caroline, or Change at the Arden Theatre and a postshow discussion led by Terry Nolen (C86), the Arden's co-founder and award-winning artistic director. On Sunday, the group takes a private tour of the Tutankhamun and the Golden Age of the Pharaohs exhibit at the Franklin Institute Science Museum and attends a presentation by Northwestern history professor Carl Petry during brunch at the Four Seasons Hotel.
During spring break, March 18–24, Northwestern's Traveling Student Revue will tour Florida to perform for the NU Clubs of Tampa Bay, Greater Sarasota, Naples, South Florida and Palm Beach.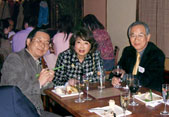 Teruaki Aoki, right, and his wife, Reiko, enjoy Thanksgiving in Tokyo with a member of the NU Club of Japan.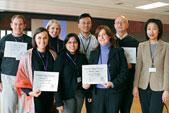 At the Leadership Symposium in October 2006, the NAA recognized outstanding alumni clubs, represented by, front row, from left, Melissa Kopolow (C96), NU Club of Washington, D.C.; Vidya Battu (McC01), NU Club of Atlanta; Tara Brown (WCAS97), NAA regional director; Betty Pak (WCAS99), NU Club of Atlanta. Back row, from left, Joshua Katzman (McC98), NU Club of Los Angeles; Michelle Madigan (J02, GJ03), NU Club of Greater New York; Roger Fong (KSM91), NU Club of Virginia; and Cliff Garstang (WCAS75), NU Club of Virginia. Photo by Franklin Habit